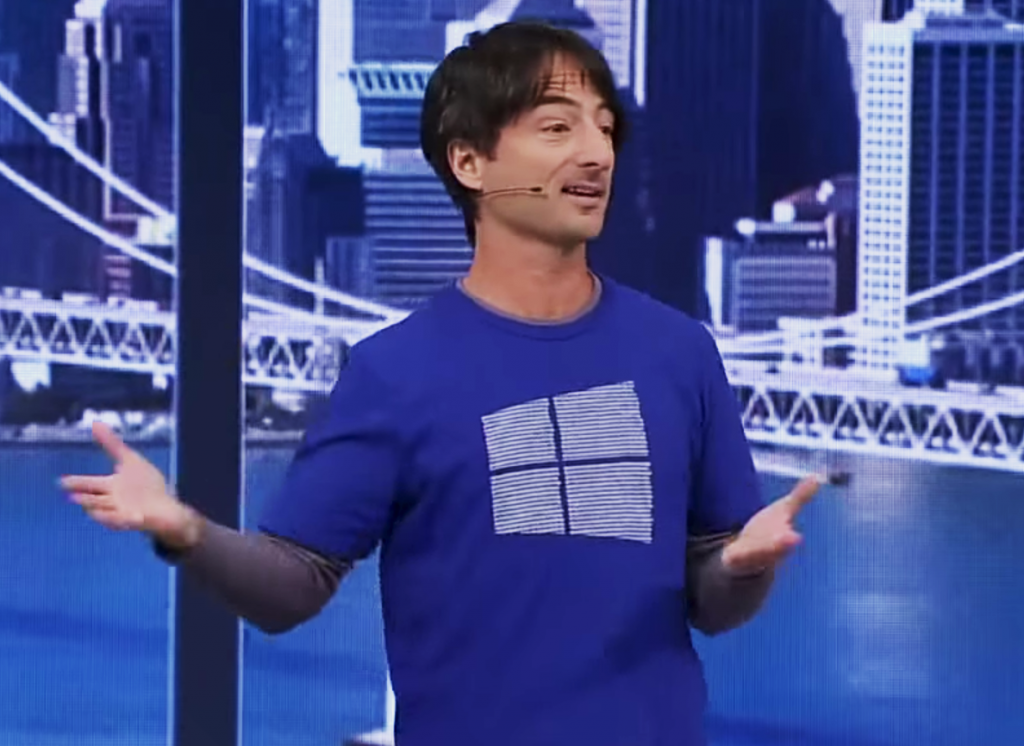 Minggu lalu di acara BUILD, Joe Belfiore diketahui memakai t-shirt berwarna biru dengan logo Windows 10 di tengahnya.
Logo itu disusun atas angka-angka biner (1 dan 0) yang komputer bisa mengerti. Banyak yang tertarik dan penasaran, apa sih makna dari angka-angka biner tersebut ?
Ada pesan apa didalamnya ?
Isi Pesannya
Kévin Gosse, salah satu pengguna twitter yang penasaran akhirnya berhasil men-decode angka-angka biner tersebut menjadi pesan yang bisa kita pahami. Berikut pesannya (dalam bahasa inggris) :
There are 10 types of people in the world
Windows 10, because 7 8 9.
Congrats on being one of the first.
Windows Insiders help us develop the future. Talk to us @ Windows
Jika diterjemahkan ke bahasa Indonesia menjadi :
Ada 10 tipe orang di dunia
Windows 10, karena 7 8 9.
Selamat menjadi salah satu yang pertama
Windows Insiders membantu kita untuk mengembangkan masa depan. berbincang dengan kita di @Windows
Menurut saya pribadi ini salah satu marketing yang keren dari tim Windows, yang mampu membuat kita penasaran apa sih arti dari angka-angka tersebut.
Yang jadi pertanyaan, dimana kita bisa membeli t-shirt keren ini ? Bagaimana menurutmu ?
via WinSuperSite
Unboxing Nokia 1 Indonesia
NB: Subscribe channel Kepoin Tekno agar tidak ketinggalan berbagai info menarik dan bermanfaat seputar teknologi, setiap hari.