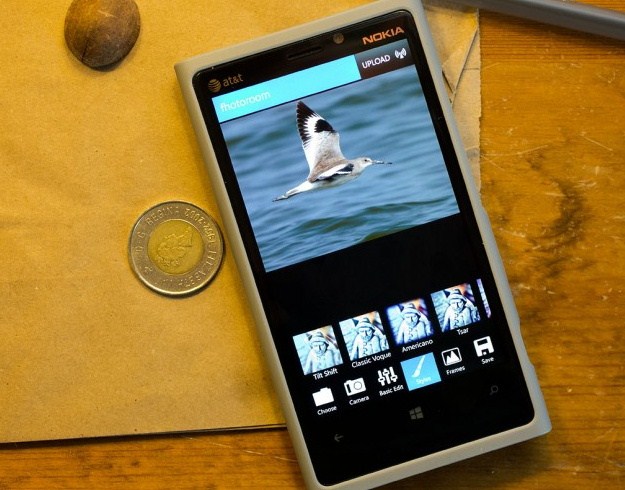 Meraih aplikasi foto terbaik tahun 2012, Fhotoroom adalah aplikasi kamera pro, foto sharing dan profesional editing foto. Aplikasi ini benar-benar memfokuskan diri pada pencapaian hasil foto yang terbaik. Menggunakan teknologi seperti EV (Auto Exposure), Grid dan Level yang memperluas kemampuan kamera. Aplikasi ini juga bisa langsung sharing foto untuk memamerkan hasil jepretan foto yang kamu buat ke skydrive, flickr, facebook, twitter atau tumblr. Buatlah foto yang indah dengan foto editor yang mempu memberikan banyak style (lebih dari 50 filter) dan masih banyak lagi yang bisa kamu lakukan. Aplikasi ini bisa kamu download secara gratis untuk Windows Phone 7.5 dan Windows Phone 8.
Fitur:
18 Powerful Editing Fx (Tones, Brightness, Saturation, Sharpen, RGB Colors, Resize, Rotate, Crop, dll)
+50 Style Indah (Light Leaks, Komo, Adele, Americano, Kapla, Haze, Copa, Ansel, Hazelnut, Chili Peppers, Tsar, Pulp Fiction, Herc, Sahara, Blue Moon, Silver, Tinge, Don Juan, Sunset, Aura, Tilt shift, Classic Vogue, Textures, Vignettes dll)
27 Custom Designed FramesPro Camera
Auto Stabilizer
Dynamic EV dengan penyesuaian +/-
Builtin Image Level
Self Timer
5 Common Camera Presets (Action, Night, Portrait dll)
Front Facing Camera
Auto Focus
Central Focus
Spot Focus
Dukungan Hardware dan Software Shutter
Grid Support
Penghilang Red Eye (jika didukung kemampuan kamera)
5x Digital Pinch to Zoom
Update v.3.0.0.0:
Update Tilt shift filter
New Before/After
New Gestures:
Swipe Left/Right for Filter
Drag Up/Down to control slider
Double Tap Before/After
Sekarang kamera didukung dengan resolusi penuh auto save.
Foto kamera lebih cepat dengan dukungan multi-shot.
Update juga tambahan UI.
Update untuk WP 8 akan segera dilakukan…
Download: Fhotoroom v.3.0.0.0 | 7 MB
Instagram Jahat! Nasib SMS di Ujung Tanduk..
NB: Subscribe channel Kepoin Tekno agar tidak ketinggalan berbagai info menarik dan bermanfaat seputar teknologi, setiap hari.