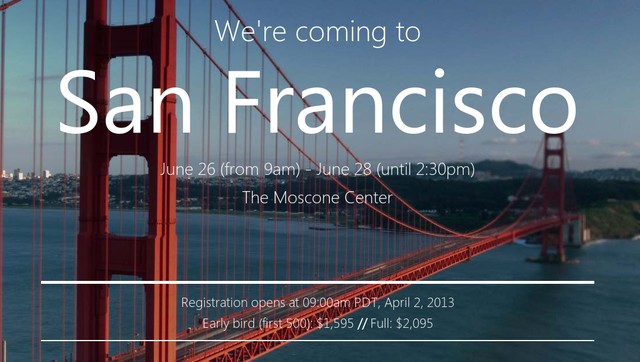 Microsoft akan mengadakan event yang diberi nama "BUILD 2013" pada 26 – 28 Juni mendatang. Event yang diadakan di The Moscone Center, San Francisco ini bakal membahas berbagai detail mengenai produk Microsoft selanjutnya. Di Event inilah bakal ditunjukkan versi selanjutnya dari Windows, Windows Server, Windows Azure, Visual Studio, Windows Phone, Office 365, XBox dan Internet Explorer.
Microsoft juga akan mengungkapkan detail tentang "Blue" di event tersebut. Hal ini diungkapkan secara gamblang oleh Frank X. Shaw, Corporate Vice President of Corporate Communication Microsoft.
Windows Blue memang sudah bocor ke publik beberapa waktu lalu, membuat beberapa fitur dan misterinya sedikit terungkap. Tetapi di Event ini semua akan lebih terungkap lagi secara detail. So bagi kamu yang penasaran dengan Windows Blue, pastikan kamu mengunjungi WinPoin pada tanggal event tersebut berlangsung. Semua perkembangan mengenai Build 2013 dan Windows Blue akan WinPoin beritakan secara lebih mendetail lagi.
via Microsoft | Build 2013