Selain versi installer, Microsoft Office kini tersedia juga dalam versi Web App (aplikasi online). Microsoft terus berupaya agar Office Web App bisa memenuhi kebutuhan para pengguna Office. Berbagai fitur baru-pun terus ditambahkan sesuai dengan kebutuhan para pengguna. Hari ini Microsoft membutuhkan sedikit saran dari kamu: fitur apa yang paling kamu inginkan dari Excel Web App?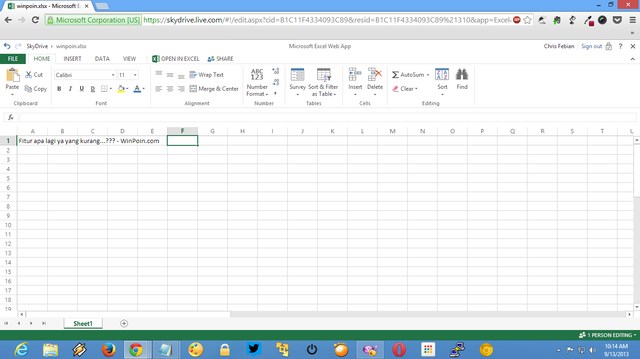 Microsoft sudah memiliki beberapa daftar fitur baru yang akan mereka masukkan, tetapi mereka butuh saran fitur mana yang paling dibutuhkan agar bisa mereka kerjakan lebih dulu.
Berikut ini adalah daftar fitur baru tersebut secara random
Adding and Editing Freeze Panes (they are already viewable)
Adding and Editing Comments (they are already viewable)
Android Tablet Support
Editing Files with VBA
Chart Editing
Viewing, Moving, and Resizing Shapes
Loading XLS files in O365 (already works in SkyDrive)
Print to PDF
WEBSERVICE Functions
Common Keyboard Shortcuts
Custom Sort a Range (sort on multiple columns)
Insert an Image
Hide/Unhide Rows & Columns
Reorder Sheets
Show Aggregates for the Selected Range in the Statusbar
Rename a Spreadsheet from within Web Excel
Drag and Drop Cells in a Sheet
Protect Sheets from Being Edited by Others
Insert and Modify Apps for Office
Dari sekian banyak fitur tersebut, Microsoft ingin memprioritaskannya sesuai dengan kebutuhan pengguna. Jika kamu ingin membantu Microsoft, masukkan fitur pilihan kamu di halaman SURVEY ini.
Jangan lupa gunakan Bahasa Inggris saat mengisi survey tersebut. Thanks! ;)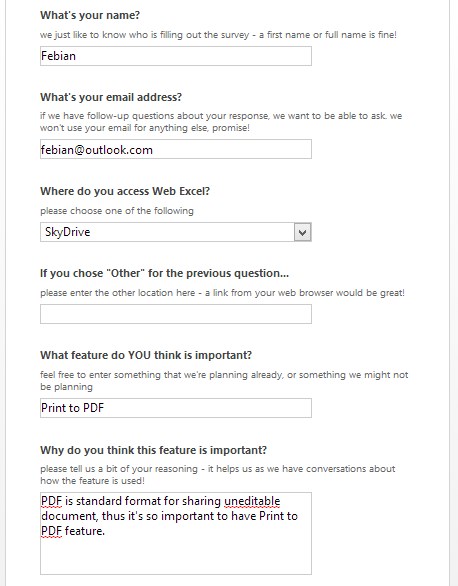 via Microsoft