Sesuai jadwal biasa, setiap selasa minggu kedua Microsoft selalu merilis cumulative update yang disebut dengan patch tuesday, meskipun memang di Indonesia update ini akan hadir dihari rabu.
Hadir dengan update KB5000802, update ini akan membawa build OS menjadi 19041.867 (Windows 10 2004), dan 19042.867 (Windows 10 20H2), dan tentu seperti biasa, dalam update ini ada sejumlah hal yang telah Microsoft tingkatkan, dan berikut adalah changelog dari update KB5000802 ini.
Yang di highlight
Updates to improve security when Windows performs basic operations.
Updates to improve security when using Microsoft Office products.
Updates security for the Windows user interface.
Yang di perbaiki
Addresses an elevation of privilege security vulnerability documented in CVE-2021-1640 related to print jobs submitted to "FILE:" ports. After installing Windows updates from March 9, 2021 and later, print jobs that are in a pending state before restarting the print spooler service or restarting the OS will remain in an error state. Manually delete the affected print jobs and resubmit them to the print queue when the print spooler service is online.
Security updates to the Windows Shell, Windows Fundamentals, Windows Management, Windows Apps, Windows User Account Control (UAC), Windows Virtualization, the Windows Kernel, the Microsoft Graphics Component, Internet Explorer, Microsoft Edge Legacy, and Windows Media.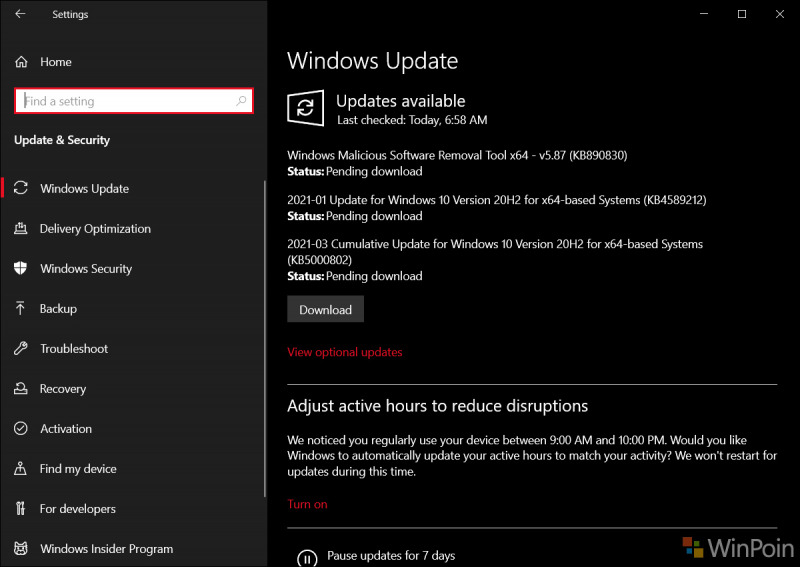 Nah seperti biasa, kamu bisa mendapatkan update ini melalui halaman Settings > Update & Security > Windows Update, selanjutnya silahkan kamu klik pada tombol download yang tersedia disana.
Nah sudahkah kamu mendapatkan update ini? apakah kamu merasa ada masalah dan bug? jika ada komen dibawah guys.
Via : Microsoft