Selain Cumulative Update, Feature Update, Update .Net Framework, dan Optional Update berupa Driver, kini dikabarkan Microsoft akan mulai meluncurkan pembaruan untuk .Net Core 2.1, 3.1, dan .Net 5.0 melalui Windows Update juga pada bulan Desember 2020 ini.
"Starting in December 2020, we will be delivering .NET Core updates on Windows via Microsoft Update. We have received many requests for this, particularly from organizations that acquire and manage all of their Microsoft-related updates via Microsoft (or Windows) Update. This change will enable organizations to manage .NET Framework and .NET Core updates in the same way. If you don't want to use Microsoft Update to update .NET on your machines, you don't have to, and can continue using one of the existing options."
Perlu diketahui bahwa pembaruan tersebut akan ditawarkan sebagai optional dan tidak diinstall secara otomatis, selain itu pengguna harus mengaktifkan opsi 'Receive updates for other Microsoft product when you update Windows' di Settings > Update & Security > Windows Update > Advanced options.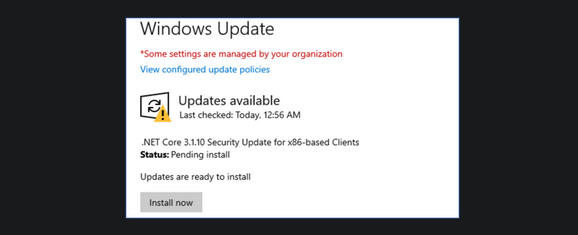 Selain melalui Windows Update, berdasarkan halaman pengumumannya, pembaruan dari .Net Core ini juga akan dikirimkan dan disediakan melalui WSUS atau SCCM (Managed Deployment Environment).
Pembaruan ini diharapkan akan mulai hadir bersamaan dengan patch tuesday minggu depan.