Bulan juni lalu, salah satu pembaca WinPoin @S_erfa via Twitter, bertanya dimana Start Menu Windows 10 2004 yang digunakannya mengalami error yang mana Immersive Search/ Search di Windows 10 menimpa user interface Start Menu Windows 10.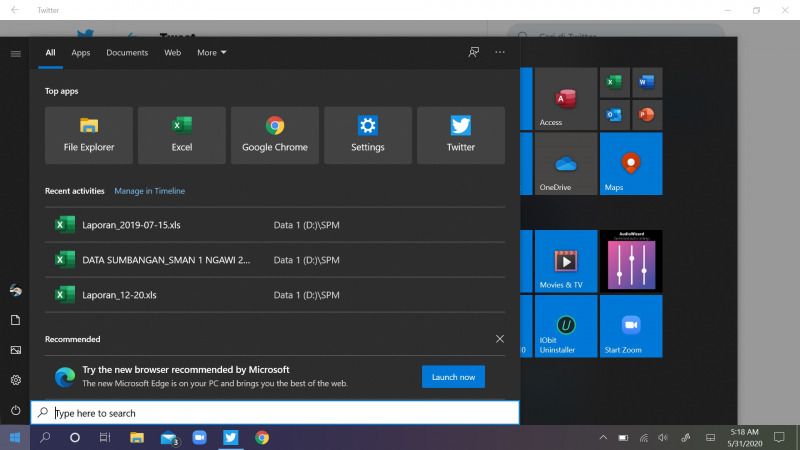 Awalnya sayapun bingung masalah itu terjadi kenapa, karena memang sebelumnya merupakan sebuah masalah baru yang memang tidak semua orang mengalaminya. Namun baru baru ini dikutip dari forum Reddit via Techdows, ternyata ada banyak juga yang mengalami masalah tersebut loh.

"As I press the Windows key, I expect the start menu to open up showing the tiles, and as I type it should search for programs or files. But after the recent 2004 update, it opens the search box on the top of the start menu, with just one window key press. I can't access the start menu tiles as they are always behind the search window. Please help If there is a fix for this issue" Tanya salah satu pengguna.
Lalu Bagaimana Cara Memperbaikinya?
Dilansir dari halaman Reddit, untuk memperbaiki masalah tersebut, pengguna harus menghapus dua Registry berikut.
HKEY_CURRENT_USER\SOFTWARE\Microsoft\Windows\CurrentVersion\Search: ImmersiveSearch
HKEY_CURRENT_USER\Software\Microsoft\Windows\CurrentVersion\Search\Flighting\Override
Namun sebelum menghapus ada baiknya kamu backup dulu Registrinya untuk menghindari hal hal yang tidak diinginkan, setelah di Backup hapus keduanya, untuk bagian registry kedua seperti yang disebutkan diatas, itu merupakan sebuah directory, jadi hapus keseluruhannya.
Nah silahkan dicoba, untuk pengguna yang tidak mengalami masalah, harusnya dua registry diatas, tidak ada didalam registry editor mereka, jadi jangan terlalu khawatir.
Silahkan dicoba dan semoga bermanfaat.
Via : Techdows