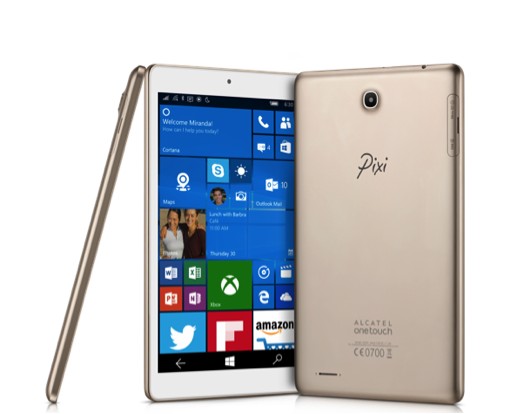 CES 2016 akan dimulai pada 6 – 9 Januari 2016 di Las Vegas, namun Alcatel OneTouch telah mencuri start dengan mengumumkan tablet Windows 10 Mobile untuk entry-level yang mereka sebut dengan Pixi 3.
Meski telah memulai duluan, mereka tidak memberikan tentang detail harga serta ketersedian akan perangkat tablet Windows 10 Mobile pertamanya tersebut. Dan berikut bocoran fitur pasti dari device tersebut:
The entry-level PIXI 3 8-inch tablet struts a Windows 10 Mobile operating system and Qualcomm chipset for 4G connectivity.

The first ALCATEL ONETOUCH tablet with a Windows Mobile operating system, the entry-level PIXI 3 8-inch tablet features Windows 10 Mobile, optimized for tablets.  It offers customization through Color Skins and Flip Stand covers. Other hot features: TV remote control, voice-call enablement, GPS, and front and rear cameras.
Jika dari hasil pengamatan bocoran gambar, bisa dikatakan Pixi 3 ini memiliki Dual Sim dan bisa disisipi memori eksternal tentunya. Namun kita tidak bisa memprediksi dengan pasti apakah support Continuum atau tidak, yang jelas kita akan tahu lebih banyak di CES 2016 besok, jadi tetap tunggu postingan berikutnya ;) .
Akan Hadir di pasar Indonesia ?
Dilihat dari produk sebelumnya yang telah di bawa Alcatel OneTouch, dapat kita asumsikan bakal hadir di pasar indonesia yang berbarengan dengan tablet android Pixi 4 dan SmartWatch khusus anak – anak yang juga dikenalkan dalam acara CES 2016 besok.
Tertarik ?
Via Alcatel OneTouch