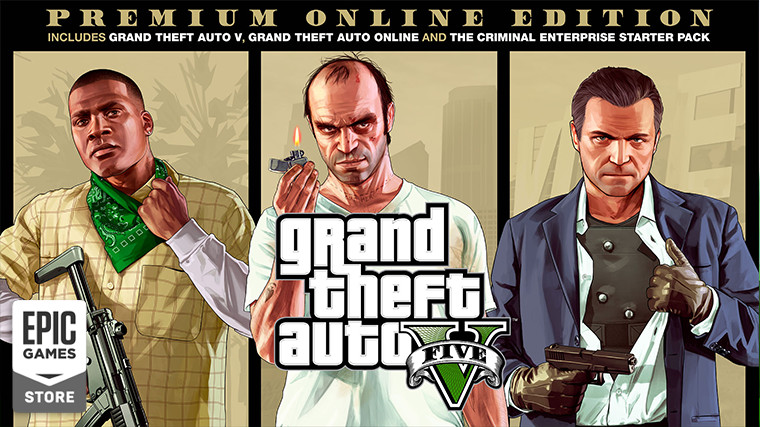 Epic Games membawa kabar baik untuk kamu pecinta game PC. Pasalnya kini mereka sedang menggratiskan game Grand Theft Auto V.
The Grand Theft Auto V: Premium Edition includes the complete GTAV story, Grand Theft Auto Online and all existing gameplay upgrades and content. You'll also get the Criminal Enterprise Starter Pack, the fastest way to jumpstart your criminal empire in GTA Online.
Tertulis diatas bahwa ini merupakan GTA V: Premium Edition, yang artinya kamu akan mendapatkan bonus uang sebesar $1,000,000 pada GTA Online.
Spesifikasi minimum GTA V:
OS:Windows 10 64 Bit, Windows 8.1 64 Bit, Windows 8 64 Bit, Windows 7 64 Bit Service Pack 1, Windows Vista 64 Bit Service Pack 2* (*NVIDIA video card recommended if running Vista OS)
Prosessor: Intel Core 2 Quad CPU Q6600 @ 2.40GHz (4 CPUs) / AMD Phenom 9850 Quad-Core Processor (4 CPUs) @ 2.5GHz
Memori: 4GB
Video Card: NVIDIA 9800 GT 1GB / AMD HD 4870 1GB (DX 10, 10.1, 11)
Sound Card: 100% DirectX 10 compatible
HDD Space: 72 GB available space
Kamu bisa langsung menuju halaman Epic Games untuk melakukan klaim. Penawaran ini hanya berlangsung sekitar seminggu dan berakhir pada tanggal 21 mei.
[UPDATE] Hingga malam ini (22:52), halaman tersebut masih belum bisa diakses. Hal ini terjadi karena banyak orang yang coba mengakses halaman tersebut.