Dilansir dari halaman Answer Microsoft, dikabarkan bahwa beberapa pengguna Mac yang menggunakan Edge Chromium mengalamai kondisi error dengan Code 6, dimana loading webpage tidak dapat di load, termasuk extensions page dan mengakibatkan semua extensions juga mengalami kegagalan.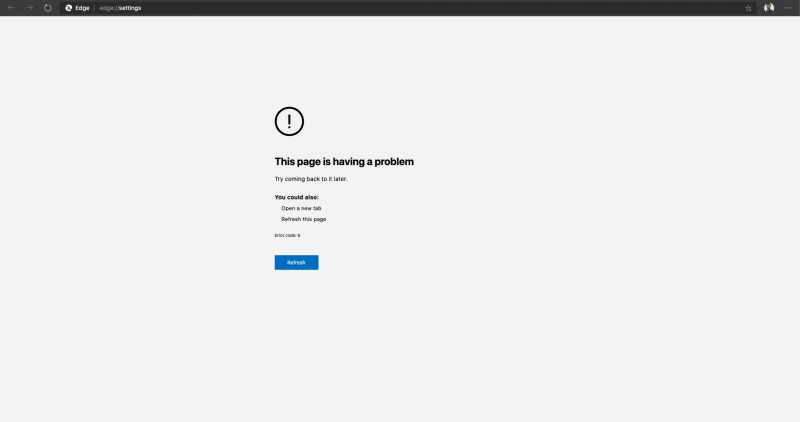 "I am using Microsoft Edge on mac os Catalina,
It was working alright till yesterday, Today i open it and it worked for few websites then it is showing this. even Settings, extensions pages are crashing and all extensions crashed as well." Keluh seorang pengguna.
Masalah tersebut tampaknya masih terjadi bahkan ketika Edge Chromium di Reinstall, dan terkait hal tersebut, tampaknya masalah yang dialami mulai terjadi setelah pengguna melakukan update Safari Browser ke versi 14.
"I am not sure this is relevant, but the only difference on my computer between yesterday (when everything still worked) and still today I am experiencing the same crashes as described above) was the update to Safari 14."
"I think it's relevant, I also updated to Safari 14 in the morning, and then it stopped working".
Jika kamu kebetulan adalah pengguna Mac yang mengalami masalah yang disebutkan diatas, tenang kamu tidak sendiri karena banyak juga yang mengalami hal yang sama, untuk langkah perbaikan sementara, kamu hanya perlu melakukan Reboot perangkat Mac kamu, dan harusnya masalah sudah menghilang.
Nah jika kamu pengguna Mac yang menggunakan Edge Chromium, apakah kamu mengalami masalah yang sama? silahkan berikan pendapat dan opinimu mengenai hal ini dikolom komentar dibawah.
Via : Techdows, News Softpedia