Microsoft Edge Dev pada minggu ini akhirnya telah mendapatkan update build keduanya. Meskipun tidak banyak hal yang diberikan Microsoft pada build ini, namun ada sebuah penambahan yang menarik untuk kamu para pengguna Mac OS.
Fitur yang baru tersebut adalah kini hadirnya fitur Password Monitor, dan pada dasarnya, fitur ini akan melakukan check terhadap seluruh password yang tersimpan di browser edge chromium pengguna, dan jika ada password yang dirasa telah dikompromikan (atau tidak aman/leaked password), pengguna akan diberitahu untuk segera mengganti password tersebut.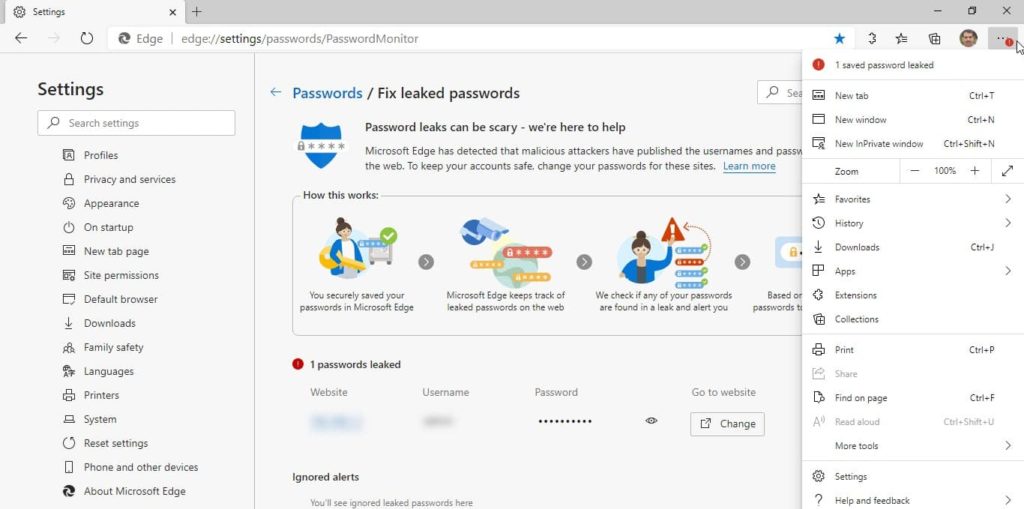 Meskipun fitur ini adalah hal baru di Mac, namun di Windows, fitur ini sudah ada sejak bulan Juni 2020 lalu, ketika pertama kali masuk ke Edge Dev dan Canary.
Selain membawa dukungan password Monitor, ada sejumlah pembaruan pada kebijakan browser ini, kamu bisa melihatnya pada halaman edge://policy/.
Nah untuk kamu yang penasaran, kamu bisa melihat changelog Microsoft Edge Dev 89.0.760.0 berikut.
Yang di Highlight:
Enabled Password Monitor on Mac.
Added Edge Update policies to edge://policy/.
Enabled support for the Browsing Data Lifetime management policy from Chromium.
Added a management policy to Define Preferred Languages. Note that updates to documentation or administrative templates may not be available yet.
Perbaikan dan Perubahan Behavior:
Fixed a crash on launch.
Fixed an issue on Mac where checking Edge's version sometimes causes a crash.
Fixed an issue where opening Edge in certain ways causes webpages to crash as soon as Edge is opened.
Fixed a hang when using virtual desktops.
Fixed an issue where re-installing Edge sometimes fails with an error that it's still running.
Changed the list of Downloads to show printed files that have been saved as a PDF.
Changed extensions to be pinned to the toolbar by default when they're installed.
Fixed an issue where scrolling or playing videos sometimes results in screen tearing or stuttering.
Fixed an issue where dragging and dropping tabs is broken when using vertical tabs.
Fixed an issue where Spellcheck settings are missing from the Language Settings page.
Fixed an issue where Share doesn't work when using Immersive Reader.
Fixed an issue where certain interactions with downloads that have been blocked by SmartScreen fail.
Fixed an issue where Guided Switch sometimes leaves an empty window open when moving a tab from one profile to another.
Fixed an issue on Mac where Edge doesn't re-open after an update.
Fixed an issue on Mac where certain keyboard shortcuts don't work.
Fixed an issue where Top Sites on the new tab page sometimes show the wrong site icon.
Fixed an issue where searching from the new tab page in an InPrivate window doesn't work.
Fixed an issue where the keyboard shortcut to open the search sidebar sometimes doesn't work.
Fixed an issue where Family Safety users sometimes can't log into websites.
Fixed an issue where rotating PDFs that have been inked on sometimes results in the ink moving incorrectly.
Fixed an error when exporting a Collection to OneNote.
Fixed an issue with dragging and dropping items into Collections.
Fixed an issue where the management policy to Block Third Party Cookies disabled users from changing the setting when set as a recommended policy.
Removed the ability to clear Hosted App Data when closing the browser since it wasn't functional.
Sedangkan untuk known issues, selengkapnya dapat kamu lihat pada halaman Microsoft berikut.
Nah untuk kamu pengguna Mac, apakah kamu menggunakan browser Microsoft Edge Dev ini? bagaimana menurutmu mengenai fitur Password Monitor tersebut? komen dibawah guys.
Via : Neowin