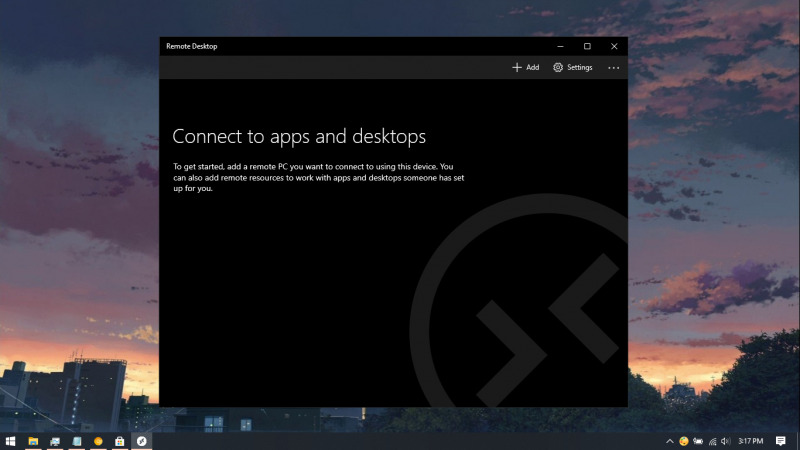 Disamping adanya aplikasi Remote Desktop versi klasik (mstsc.exe), kamu juga bisa menggunakan Remote Desktop versi modern di Windows 10 yang bernama 'Microsoft Remote App'.
Baru-baru ini, Microsoft memberikan banyak perubahan serta perbaikan pada aplikasi modern Remote Desktop seperti tema terang dan gelap, dukungan untuk perangkat ARM64, dan lain-lain.
Sebagaimana pernyataan Microsoft berikut:
Use the Microsoft Remote Desktop app to connect to a remote PC or virtual apps and desktops made available by your admin. The app helps you be productive no matter where you are. Getting Started Configure your PC for remote access first. Download the Remote Desktop assistant to your PC and let it do the work for you: https://aka.ms/RDSetup Learn more about the different remote desktop apps at: https://aka.ms/rdapps
Berikut daftar changlog yang diberikan untuk Microsoft Remote App versi 10.2.1519:
Rewrote the client to use the same underlying RDP core engine as the iOS, macOS, and Android clients.
Added support for the Azure Resource Manager-integrated version of Windows Virtual Desktop.
Added support for x64 and ARM64.
Updated the side panel design to full screen.
Added support for light and dark modes.
Added functionality to subscribe and connect to sovereign cloud deployments.
Added functionality to enable backup and restore of workspaces (bookmarks) in release to manufacturing (RTM).
Updated functionality to use existing Azure Active Directory (Azure AD) tokens during the subscription process to reduce the number of times users must sign in.
Updated subscription can now detect whether you're using Windows Virtual Desktop or Windows Virtual Desktop (classic).
Fixed issue with copying files to remote PCs.
Fixed commonly reported accessibility issues with buttons.
Hingga saat ini, update ini hanya tersedia jika kamu menggunakan Windows 10 versi Insider. Jika kamu tertarik, kamu bisa mendapatkannya melalui Microsoft Store.
Source: Windows Central