Selain mengirimkan update KB5003637 untuk para pengguna Windows 10 Home dan Pro (2004, 20H2 dan 21H1), Microsoft juga mengirimkan cumulative update bulan Juni 2021 pada para pengguna Windows 10 Enterprise LTSC 2019, dan tentu karena versi ini berbasiskan Windows 10 1809, maka build OS akan berubah menjadi 17763.1999 setelah pengguna menginstall update ini.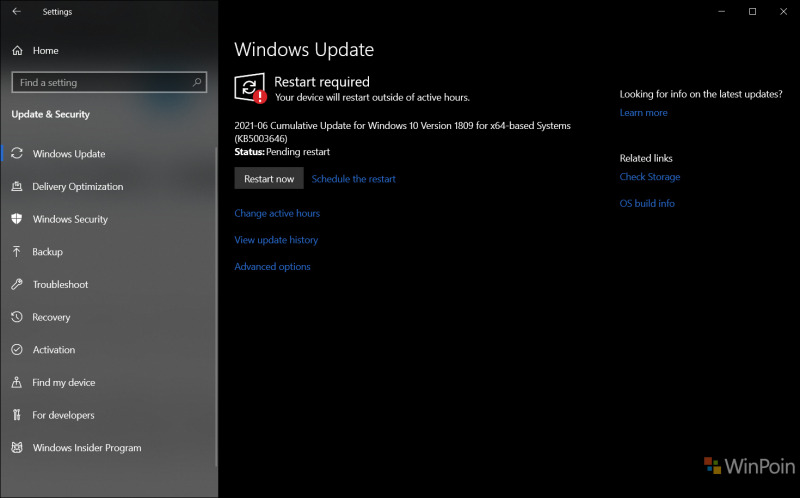 Dari segi perbaikan sendiri, kurang lebih apa yang Microsoft tambahkan di update ini sama seperti apa yang mereka tambahkan untuk para pengguna Windows 10 2004 dan para saudaranya, diantaranya adalah
Baca Juga : Sampai 24 Juni 2021, Microsoft Tidak Akan Kirim Update Untuk Para Insider
Updates to improve security when Windows performs basic operations.
Updates to improve Windows OLE (compound documents) security.
Updates for verifying usernames and passwords.
Updates for storing and managing files.
Updates to improve security when using input devices such as a mouse, keyboard, or pen. 
Dengan sedikit tambahan,
Addresses an issue with an inconsistent shutdown during Windows Update that damages the Windows Management Instrumentation (WMI) repository. As a result, the Managed Object Format (MOF) Advance Installer fails.
Security updates to the Microsoft Scripting Engine, Windows App Platform and Frameworks, Windows Input and Composition, Windows Management, Windows Cloud Infrastructure, Windows Authentication, Windows Fundamentals, Windows Virtualization, Windows Kernel, Windows HTML Platform, and Windows Storage and Filesystem.
Dan sebagai persyaratan, sebelum pengguna menginstall update ini, pengguna harus sudah menginstall update SSU (KB5003243) atau (KB5003711), dan jika persyaratan sudah terpenuhi, seperti biasa update akan tersedia dan dapat pengguna dapatkan melalui halaman Settings > Update & Security > Windows Update.
Nah apakah kamu pengguna Windows 10 Enterprise LTSC 2019 juga? apakah kamu sudah mendapatkan update ini? komen dibawah guys.
Via : Microsoft