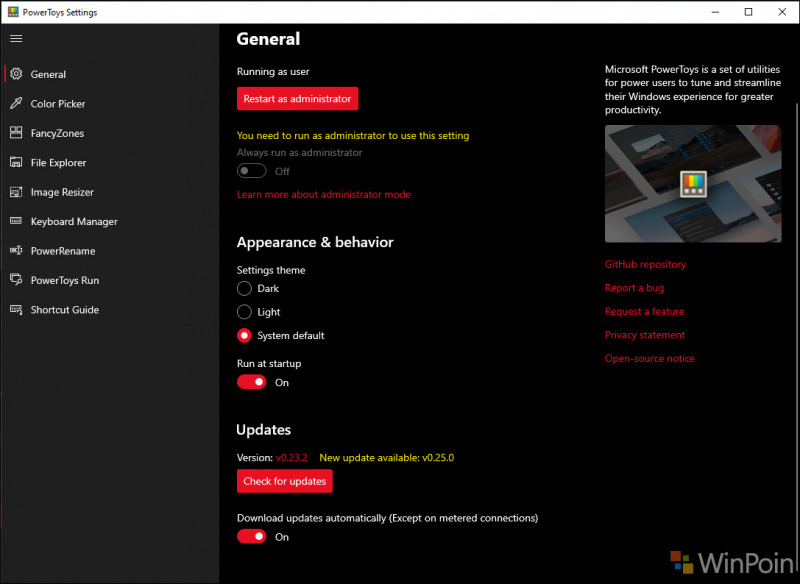 PowerToys semakin hari semakin dekat dengan perilisan versi stable-nya, dan pada versi Preview 0.25 ini, ada sejumlah peningkatan kestabilan aplikasi serta ada juga beberapa penambahan fitur yang memang ditujukan untuk peningkatan kualitas aplikasi.
Dan bagi kamu yang penasaran, berikut adalah changelog yang developer catat dalam release note aplikasi ini di GitHub.
General
First pass on localization complete. 17 different languages. We know there will be some rough areas, please make us aware so we can correct them.
Logging added into the installer
Large sums of accessibility issues fixed.
Less notifications for installing
FxCop work is almost fully wrapped up
Color Picker
Additional color style selections such as CYMK and HSL
FancyZones
Multiple bugs fixed
Better zone drawing improvements
Keyboard manager
Fixed terminal input map failure
Better app compat
Multiple bug fixes
Ability to directly disable keys/shortcuts
PowerToys Run
expanded environment var searching such as %windr%
multiple crash bug fixes
Improvements on calculator plugin
Directly able to override theming
Windows will open to what shell you want
Better action key support

= for direct calculator
? for direct file searching
. for direct for applications
// for direct URL
< for running processes
> for shell processes
Dev docs
Added multiple developer related docs
Fitur Video Conference Mute Belum Dihadirkan
Dalam update PowerToys 0.25 ini sayangnya fitur Video Conference Mute yang pertama kali diperkenalkan pada versi experimental PowerToys 0.22 masih belum dihadirkan.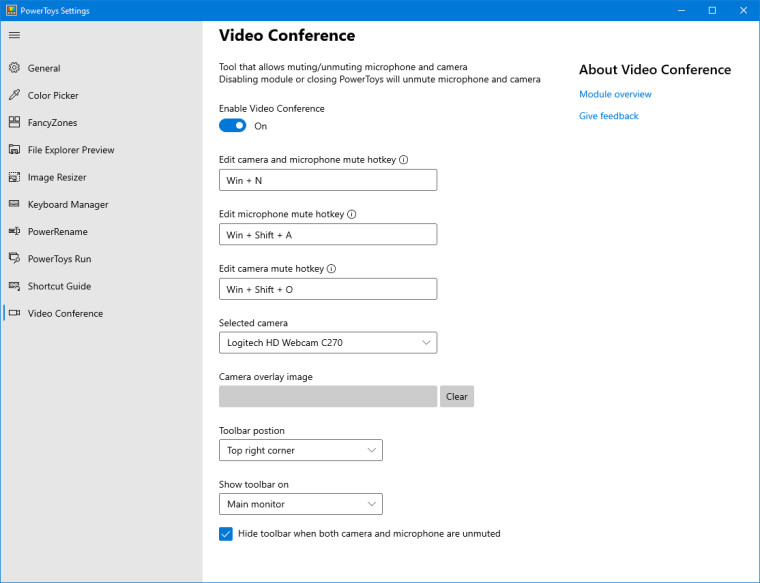 Baca Juga : Microsoft Rilis Update PowerToys 0.21.1 dan Pre-Release PowerToys 0.22
Namun bagi kamu yang sudah menunggu fitur ini di PowerToys, Microsoft akan mulai menghadirkannya pada minggu minggu ini.
"This will be coming in about a week's time. We need additional work done here to ship this out. It will be 0.26 Experimental and will be 0.25 + The video conference utility".
Untuk kamu pengguna PowerToys, 0.23 atau dibawahnya, kamu bisa mendapatkan update 0.25 ini dengan cara mendownload manual via halaman Settings di PowerToys App, atau kamu bisa mendownload Installernya secara manual via Link GitHub berikut.