Seperti biasa, komponen lama kadang selalu tertinggal pada build terbaru dari OS Windows, dimana berdasarkan informasi dari @XENOPANTHER di Twitter, referensi ke Windows 9 masih tercatat di Windows 11 22567.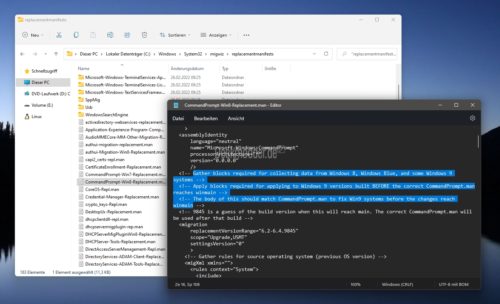 Dalam laporannya, Xeno memperhatikan bahwa masih ada catatan di CommandPrompt-Win8-Replacement.man sejak Windows 10 Build 9860. File ini dapat ditemukan di folder C:\Windows\System32\migwiz\replacementmanifests.
Berdasarkan gambar yang dapat kamu lihat diatas, ada tiga baris yang dijadikan comment dalam code tersebut, diantaranya adalah:
"Collection of blocks required to collect data from Windows 8, Windows Blue and some Windows 9 systems"
"Applying blocks required for application to Windows 9 versions created BEFORE the correct CommandPrompt man reaches winmain"
"Contents should match CommandPrompt.man to fix Win9 systems before changes reach winmain"
Masih belum jelas kenapa Microsoft masih menyimpan sebagian kecil code tersebut, padahal Windows 9 tidak pernah dirilis. Bahkan code tersebut sudah ada sejak Windows 10 Build 9860 yang dirilis pada 10 Oktober 2014.
Nah bagaimana menurutmu? komen dibawah guys.
Via: DeskModder