Cukup lama sejak Windows 10 dirilis pertama kali, dan kini akhirnya penggunaan Windows 10 sudah mencapai lebih dari 1 miliar perangkat.
"We're delighted to announce that over one billion people have chosen Windows 10 across 200 countries resulting in more than one billion active Windows 10 devices," Microsoft corporate vice president Yusuf Mehdi menulis dalam pengumumannya. "We couldn't be more grateful to our customers, partners, and employees for helping us get here."
Satu miliar untuk sebuah pengguna system operasi bukanlah sebuah angka yang kecil, mengingat banyak saingan yang kini semakin banyak, terutama linux yang kini jangkauannya semakin meluas, tidak lupa juga saingan beratnya Mac OS yang dikembangkan oleh Apple yang memang cukup banyak juga digunakan.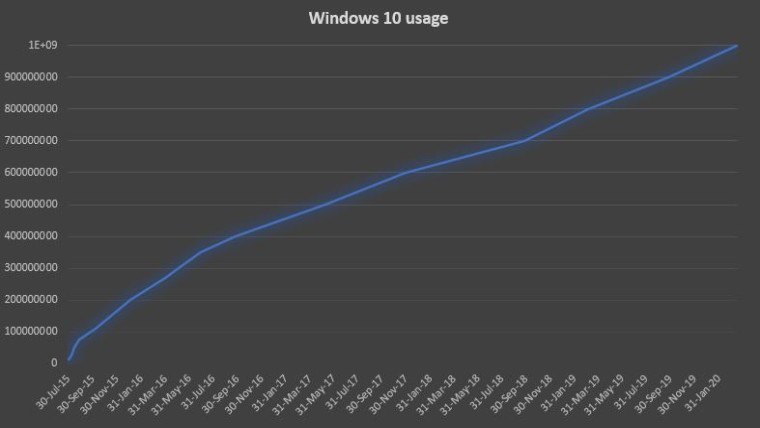 Selain itu, Microsoft juga mengklaim dalam pengumumannya bahwa ada sekitar 17.500.000 Windows Insider diseluruh dunia, dan merekalah yang membantu membentuk proses pembangunan Windows 10. Meskipun pengguna Windows Insider yang aktif hanya sekitar 1.000.000 saja namun tetap saja angka tersebut bukanlah angka yang kecil.
Microsoft juga mengatakan bahwa mereka akan terus berinvestasi di Windows 10, dan mereka menguraikan semua versi yang berbeda seperti Windows IoT, Windows 10, Windows Server, Windows Mixed Reality, Windows 10 S Mode dan Windows 10X.
Dari 1 Miliar perangkat ini, tentunya kita adalah salah satunya. Nah silahkan berikan pendapat dan opinimu mengenai hal ini dikolom komentar dibawah.
Referensi : Microsoft, Neowin, Thurrot