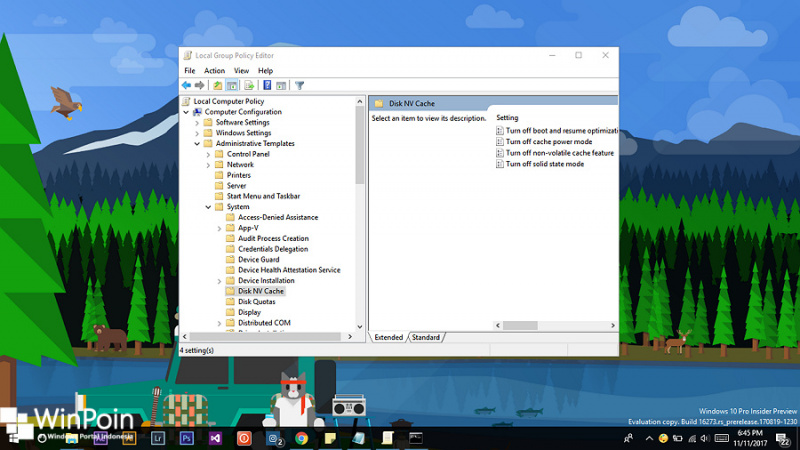 Jika kamu sering melakukan kustomisasi Windows dengan mengutak-atik Registry, tentu kamu juga tidak asing lagi dengan Group Policy Editor. Group Policy Editor berisikan aturan-aturan yang dapat kamu ubah, mengganti pengaturan ini akan berlaku pada user pada komputer dan domain group yang sama.
Berbeda dengan Registry, Group Policy Editor tidak menyedikan opsi build-in untuk melakukan backup pengaturan. Tetapi kamu tetap bisa melakukan trik untuk membackup Group Policy Editor dengan cara yang WinPoin berikan pada artikel sebelumnya.
Pada kali ini WinPoin akan memberikan cara untuk restore pengaturan Group Policy Editor.
Restore Pengaturan di Group Policy Editor
Pastikan kamu sudah mencentang pengaturan Hidden Items agar kamu dapat mengakses file sistem yang tersembunyi.
Paste/pindahkan file hasil backup Group Policy Editor ke path C:\Windows\System32\GroupPolicy\. Ketika muncul peringatan, klik opsi Replace the files in the destination.
Belum selesai sampai disitu, buka Command Prompt as Administrator lalu masukan perintah gpupdate /force agar Group Policy melakukan update Policy.
Jika kamu tidak ingin melalui step 3, kamu bisa reboot ulang sistem untuk hasil yang sama.
Done.
That's it! dengan begitu maka kamu telah berhasil melakukan restore pada pengaturan Group Policy Editor. Tentunya ini bermanfaat bagi kamu yang ingin melakukan pengaturan yang sama pada komputer lain. Jika ada yang ingin ditanyakan, silahkan bertanya melalui kolom komentar.