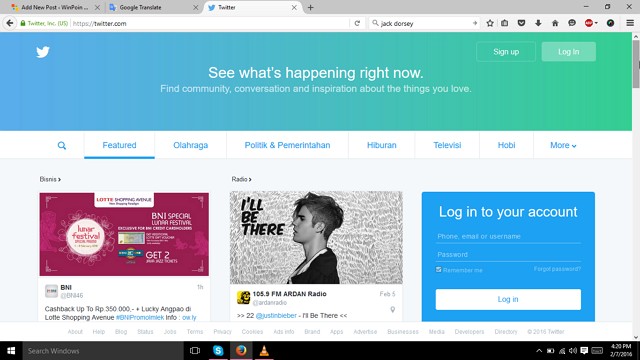 Seperti yang kita ketahu, sebelumnya BuzzFeed mengatakan bahwa Twitter berencana akan menggunakan sistem algoritma timeline yang diperkirakan akan diluncurkan minggu depan yang sontak membuat para Netizen di Twitter kecewa dengan membuat hastag #RIPTwitter.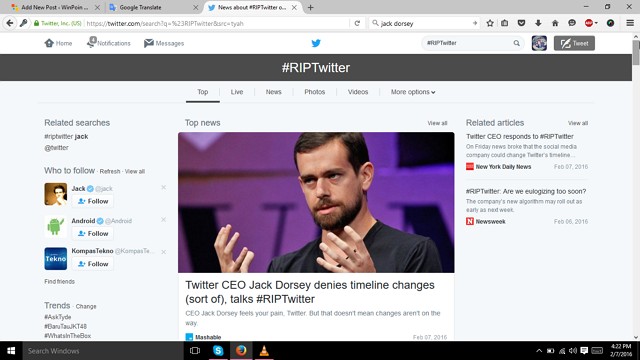 Menanggapi hal tersebut hari ini CEO Twitter, Jack Dorsey, Berkicau melalui akun Twitternya yang mengatakan bahwa Kami (Twitter) tidak pernah merencanakan untuk skema timeline minggu depan.
Hello Twitter! Regarding #RIPTwitter: I want you all to know we're always listening. We never planned to reorder timelines next week.

— Jack (@jack) February 6, 2016
Dia juga menambahkan beberapa kicauan yang mengatakan bahwa Twitter akan tetap konsisten dalam konsep Twitter itu sendiri yakni 'Real-Time'.
Twitter is live. Twitter is real-time. Twitter is about who & what you follow. And Twitter is here to stay! By becoming more Twitter-y.

— Jack (@jack) February 6, 2016
Look at "while you were away" at the top of your TL. Tweets you missed from people you follow. Pull to refresh to go back to real-time.

— Jack (@jack) February 6, 2016
I *love* real-time. We love the live stream. It's us. And we're going to continue to refine it to make Twitter feel more, not less, live!

— Jack (@jack) February 6, 2016
Twitter can help make connections in real-time based on dynamic interests and topics, rather than a static social/friend graph. We get it.

— Jack (@jack) February 6, 2016
Tetapi bukan berarti Twitter mengubur dalam-dalam tentang sistem Algoritma ini, pasalnya sistem ini sedang diuji coba oleh pihak internal. Tetapi untuk sekarang Jack belum ada rencana untuk menggunakan sistem ini dalam waktu dekat.
Source @Jack