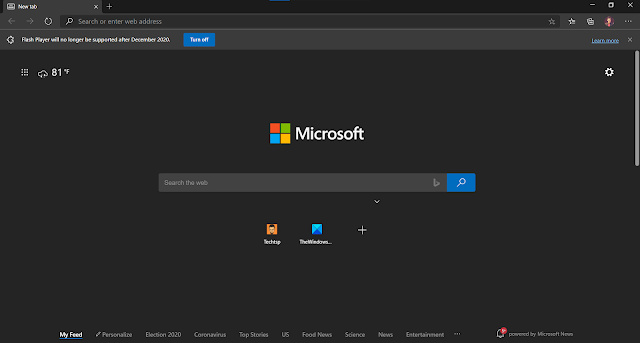 Via Techscp, beberapa pengguna Edge Chromium mendapati sebuah notifikasi atau pesan peringatan dalam browser mereka, yang mengatakan bahwa dukungan Flash Player akan berakhir pada akhir bulan Desember 2020 mendatang.
Sedikit informasi bagi yang belum tahu, Adobe Flash Player yang pertama kali diperkenalkan pada tahun 1996 untuk menampilkan konten multimedia dan straming audio dan video akan mencapai akhir dari masa hidupnya pada akhir tahun ini, sebagai hasil dari dihentikannya dukungan dan distribusi flash player ini, tentunya kedepannya tidak akan ada update untuk flash player atau bahkan untuk tetap berfungsi mulai awal tahun 2021.
"By the end of 2020, we will remove the ability to run Adobe Flash in Microsoft Edge and Internet Explorer across all supported versions of Microsoft Windows. Users will no longer have any ability to enable or run Flash," Microsoft menjelaskan.
Sebagai bagian dari peringatan ini, akan seperti yang sudah dijelaskan diawal, pengguna Edge Chromium akan mendapati sebuah banner peringatan kecil pada bagian atas Browser, yang menampilkan pesan "Flash Player will no longer be supported after December 2020", tentu bagi yang merasa terganggu pengguna dapat menutup banner tersebut.
Via : Techscp