Salah satu hal yang mungkin dapat pengguna Windows Insider perhatikan dalam Windows 10 Insider Preview build paling baru adalah perubahan yang diberikan Microsoft, dimana kabarnya mereka mulai menghilangkan komponen flash player di halaman Control Panel.
Ditinggalkannya flash player ini sebenarnya bukanlah kabar baru di Windows 10, dimana sudah beberapa kali Microsoft mengingatkan bahwa pada akhir Desember 2020 ini, mereka akan sepenuhnya meninggalkan flash player dari System Operasinya.
Terkait dengan hal tersebut, langkah yang pertama kali dilakukan Microsoft adalah menghentikan dan menghapus flash player dari komponen system operasi, dan control panel adalah salah satunya. Jika kamu adalah pengguna Windows 10 Insider Preview Build 20236 atau yang lebih baru, kamu mungkin akan melihat bahwa pada halaman Control panel > System and security > Flash player, sudah tidak ada lagi.

Flash Player di Windows 10 20H2 dan dibawahnya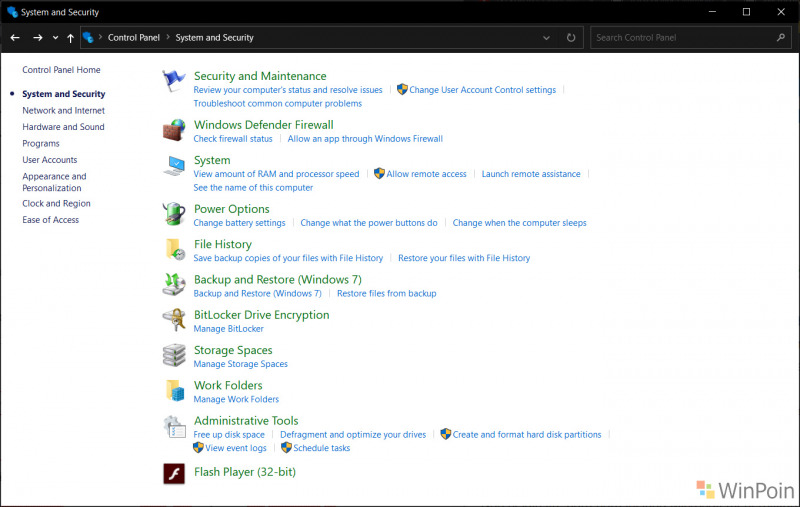 Sedangkan untuk Windows 10 20H2 dan dibawahnya selama masih didukung untuk mendapatkan update, pada awal 2021 nanti dikabarkan pengguna Windows 10 versi tersebut akan mendapatkan sebuah optional update yang berfungsi untuk menghapus Adobe Flash Player dari dalam system operasi, dan tentu nantinya update ini akan menjadi update yang direkomendasikan. 
"In Summer of 2021, all the APIs, group polices and user interfaces that specifically govern the behavior of Adobe Flash Player will be removed from Microsoft Edge (legacy) and Internet Explorer 11 via the latest "Cumulative Update" on Windows 10 platforms and via "Cumulative Update for Internet Explorer 11" or "Monthly Rollup" on Windows 8.1, Windows Server 2012 and Windows Embedded 8 Standard. Also, the "Update for Removal of Adobe Flash Player" will be included as part of the "Cumulative Update" and "Monthly Rollup" this point forward. If you are working with Adobe for continued support, you should not be impacted by these changes." Catat Microsoft
Nah terkait dengan dihentikannya flash player, apakah kamu sudah siap dengan hal tersebut? silahkan berikan pendapat dan opinimu mengenai hal ini dikolom komentar dibawah.
Via : Neowin