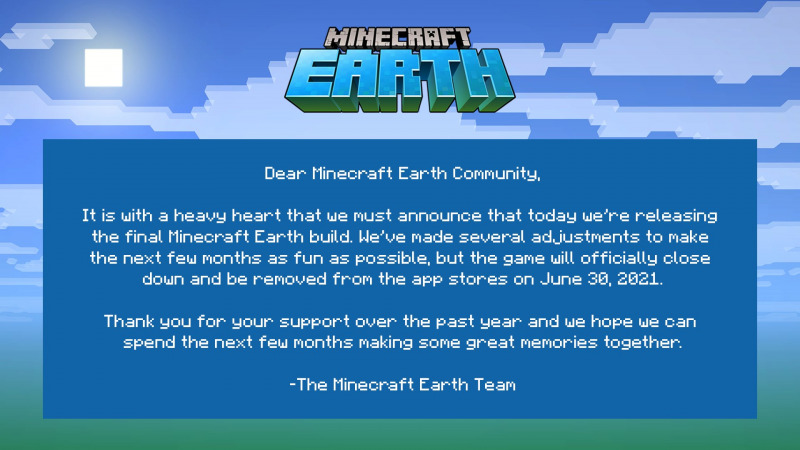 Minecraft Earth, game Augmented Reality Mobile yang mulai debut pada tahun 2019 lalu dikabarkan akan mulai dihentikan pada bulan Juni 2021 mendatang.
Pengumuman ini diumumkan oleh Mojang selaku pengembang dari game ini, dan berdasarkan pengumumannya, pemberhentian dari game ini diakibatkan oleh pandemi Covid-19 yang hingga kini masih tengah berlangung, sehingga memaksa banyak pemain untuk tetap tinggal dirumah dan Game AR ini menjadi cukup jarang untuk dimainkan.
Sampai waktu yang ditentukan, Minecraft Earth ini tentu masih dapat pengguna mainkan, dan setelah tanggal tanggal 30 Juni terlewat, permainan ini akan mulai dihapus pada App Store dan Google Play Store.
Sebagai pemanis, Mojang akan memberikan kompensasi kepada pemain yang masih memiliki rubi, mata uang dalam game Minecraft Earth dengan Monecoint untuk digunakan di pasar Minecraft, selain itu semua pemain yang telah menghabiskan uang untuk membeli apapun digame Minecraft Earth akan mendapatkan token untuk mendapatkan Game Minecraft Reguler di perangkat seluler mereka.
Kabar Lainnya : Cortana Dapatkan Fitur Voice Activations Kembali!
"All players with paid ruby balances will be granted Minecoins, which you can use on the Minecraft Marketplace to purchase skin and texture packs, maps, and even minigames. Plus, if you've ever made a purchase in Minecraft Earth, you will receive a free copy of Minecraft (the Bedrock version) so you can get a fresh start while grabbing some goodies from the Marketplace!"
Meskipun awalnya game ini diharapkan memiliki momentum yang sama seperti Pokemon Go, sayangnya pandemi merusak rencana tersebut, sehingga Mojang yang kini telah diakuisisi Microsoft terpaksa memberhentikan permainan ini.
Nah apakah kamu pernah memainkan game ini? komen dibawah guys.