Beberapa waktu lalu Google memberikan update untuk Google Chrome, dan pada versi Chrome 78.0.3904.0.108, mencakup beberapa perbaikan keamanan, namun selain itu ada fitur yang dibawa kembali setelah sebelumnya dihilangkan.
Yap, seperti yang dikutip dari Changelog Google Chrome (Via Techdows), Google Chrome 78.0.3904.0.108 mengembalikan opsi Close Other Tab yang sebelumnya dihilangkan.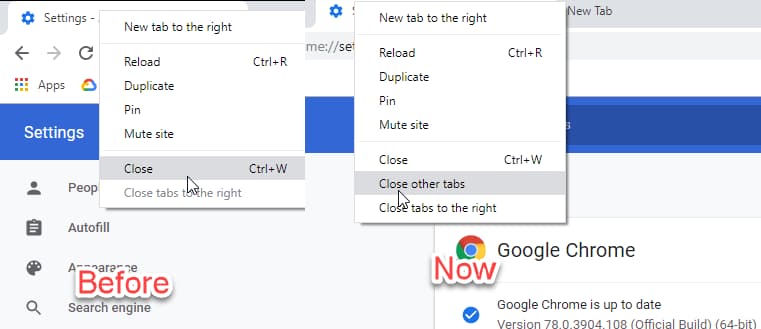 Bagi yang belum tahu, opsi Close Other Tab sebelumnya dihilangkan setelah adanya Isu yang dilaporkan, namun dengan pertimbangan lebih lanjut sesuai dengan banyaknya feedback yang diberikan, Google membawa kembali opsi ini.
"Close other tabs' was removed following the discussion here https://bugs.chromium.org/p/chromium/issues/detail?id=515930. With further consideration, which included additional usage analysis and listening to user feedback, we decided to restore 'Close other tabs' to the tab context menu. Folks who use this feature can't efficiently take this action any other way from Chrome's UI."
Nah sekarang setelah kamu selesai melakukan Update ke versi Chrome 78.0.3904.0.108, ketika kamu melakukan klik pada tab, pilihan Close Other Tab akan kembali muncul dan dapat digunakan seperti biasa.
Langsung aja update Google Chrome kamu guys. Dan apa ada yang sadar bahwa fitur ini sebelumnya hilang?
Via : Techdows