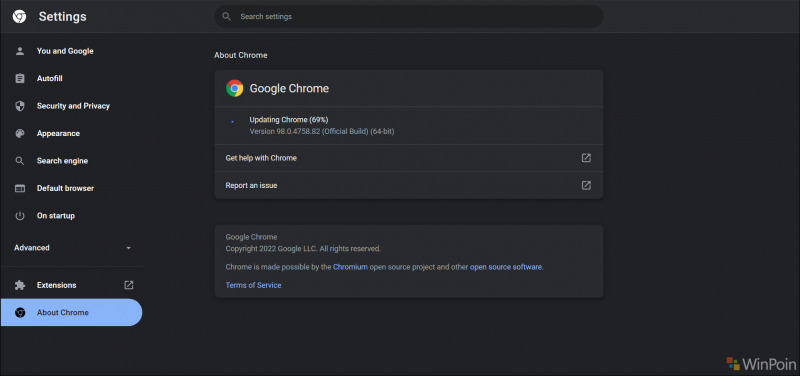 Beberapa waktu lalu Google telah merilis update baru untuk Google Chrome yang membawa versi 98.0.4758.102. Di dalam versi ini seperti biasa tidak ada fitur baru yang dihadirkan kecuali perbaikan keamanan saja.
Nah dilansir dari WinAero, pada Google Chrome 98.0.4758.102 ini, setidaknya ada 11 masalah keamanan yang diperbaiki, beberapa diantaranya adalah masalah yang cukup membahayakan dan ditandai sebagai high severity. Beberapa diantaranya tersebut mencakup:
High CVE-2022-0603: Use after free in File Manager. Reported by Chaoyuan Peng (@ret2happy) on 2022-01-22
High CVE-2022-0604: Heap buffer overflow in Tab Groups. Reported by Krace on 2021-11-24
High CVE-2022-0605: Use after free in Webstore API. Reported by Thomas Orlita on 2022-01-13
High CVE-2022-0606: Use after free in ANGLE. Reported by Cassidy Kim of Amber Security Lab, OPPO Mobile Telecommunications Corp. Ltd. on 2022-01-17
High CVE-2022-0607: Use after free in GPU. Reported by 0x74960 on 2021-09-17
High CVE-2022-0608: Integer overflow in Mojo. Reported by Sergei Glazunov of Google Project Zero on 2021-11-16
High CVE-2022-0609: Use after free in Animation. Reported by Adam Weidemann and Clément Lecigne of Google's Threat Analysis Group on 2022-02-10
Medium CVE-2022-0610: Inappropriate implementation in Gamepad API. Reported by Anonymous on 2022-01-08
Dan beberapa lainnya yang dapat kamu lihat pada halaman Chromium berikut.
Meskipun tidak membawa fitur baru, tentu masalah keamanan adalah hal yang sangat penting juga untuk diperbaiki, sehingga memperbarui Google Chrome kamu ke versi 98.0.4758.102 ini sangat direkomendasikan sekali.
Kamu bisa langsung saja memperbarui Google Chrome kamu melalui halaman chrome://settings/help.
Via: WinAero