Sebuah kabar mengejutkan baru baru ini dikabarkan oleh perusahaan Antivirus Esset, dimana mereka meluncurkan sebuah Endpoint Antivirus untuk Linux.
Esset Endpoint Antivirus untuk Linux ini dilengkapi dengan berbagai paket fitur antivirus yang khas, seperti Real Time Protections, dan beberapa mode Scanning, selain itu ada juga fitur yang ditujukan untuk perusahaan seperti kompatibilitas penuh dengan ESET Security Management Center dan ESET Cloud Administrator.
"A single layer of defense is not nearly enough for today's evolving threat landscape. Focusing on the whole of the malware lifecycle – pre-execution, execution and post execution – and not only on a specific part, allows ESET to provide the highest level of protection possible. ESET endpoint products support all operating systems including Windows, macOS, Linux, and Android – as well as Mobile Device Management for iOS and Android," Kata Esset.
Selain itu, terkait dengan kinerja System, Esset mengatakan bahwa Antivirus ini diranang untuk bekerja tanpa menggunakan banyak sumber daya, namun tetap maksimal dalam hal proteksi. Bahkan untuk system Requirementsnya saja tidak membutuhkan banyak tempat.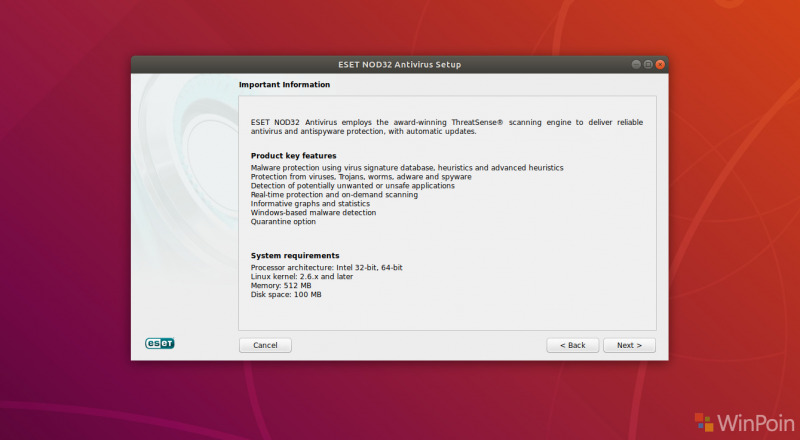 "ESET Endpoint Antivirus for Linux was designed for high performance. Running real-time in the background and GUI-less, each daemon only starts when needed, saving the system resources of your Linux endpoints. Desktop notifications are only displayed when a threat has been eliminated, requiring no user intervention,".
Untuk saat ini, antivirus ini hanya tersedia untuk Linux Suse, Fedora, Ubuntu, Mandriva, Debian Red Hat, dan Distro lain dibawahnya, kamu bisa masuk kehalaman berikut untuk mendownload dan mendapatkan lisensi trial selama 30 Hari.
Rekomendasi Artikel : Cara Install Esset Antivirus Di Linux Ubuntu
Referensi : Esset, News Softpedia