Ada kabar panas nih guys, terlebih jika kamu adalah pengguna Rufus yang biasa mendownload sejumlah file ISO melalui aplikasi tersebut, karena baru baru ini nih, Microsoft telah memperketat server mereka untuk memblokir sejumlah download request via Fido, hal ini juga dikofirmasi oleh Fido Developer Pete Batard yang pertama kali menemukan masalah ini.
"Well, from further investigation, it sure looks like Microsoft made their website deliberately hostile to our script queries. The only query that works for GetProductDownloadLinksBySku is the one that is sent internally from Microsoft's web page, as trying to copy/paste that query to a different browser window, or even trying to manually issue it from the same window now returns an error, whereas that wasn't the case previously."
Nah ketika kamu mencoba mendownload file ISO menggunakan Rufus, maka kamu akan mendapatkan error seperti pada gambar berikut: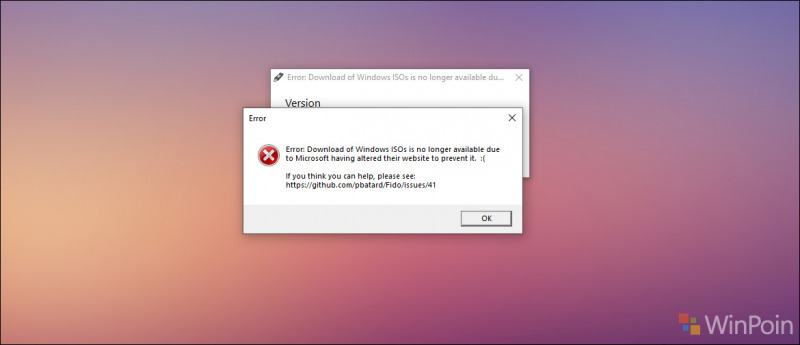 Untuk file ISO yang tidak bisa kita download via Rufus, mencakup, Windows 8.1, Windows 10, dan Windows 11, namun jika kamu ingin mendownload Windows 7, kita masih bisa mendownload file iso-nya dengan normal tanpa ada masalah.
Nah cukup disayangkan sekali bukan, karena metode ini cukup banyak pengguna gunakan untuk mendownload file ISO, sekaligus membuat bootable usb dengan Rufus.
Kedepannya, masih belum jelas apakah kemampuan download file ISO di Rufus masih akan dapat dilakukan, atau memang kemampuan tersebut akan menjadi sejarah saja.
Bagaimana menurutmu? komen dibawah guys.
Via : GitHub