Baru baru ini dilansir dari Neowin, Microsoft mengakui masalah yang mempengaruhi semua versi dari Edge Chromium, dimana masalah tersebut akan membuat Youtube tidak bisa diputar atau tidak berjalan dengan semestinya ketika ekstensi AdBlock atau AdBlock Plus dihidupkan.
"Our Media team has received a number of reports regarding a potential bug, so we wanted to loop you in on our findings. We've heard that a number of users who have the AdBlock (Plus) or Adblock for Youtube extensions installed are running into errors on YouTube videos. If you're experiencing this bug, you will likely encounter a black screen on the video player when attempting to load a video on YouTube. (See the screenshot below.) We've found that this behavior is happening on all operating systems and all Microsoft Edge channels." Catat Microsoft
Error tersebut akan menampilkan layar blank dengan pesan yang berkata "An error occurred. Please try again later", tepat seperti gambar berikut.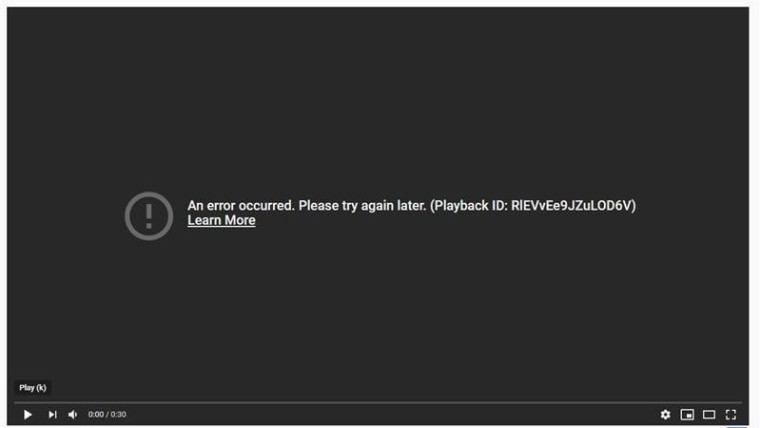 Untuk mengatasi masalah ini, untuk sekarang pengguna hanya perlu menonaktifkan AdBlock mereka ketika membuka halaman Youtube, atau menambahkannya pada Whitelist AdBlock yang pengguna gunakan.
Dan selain itu, Microsoft juga menambahkan bahwa Team mereka tengah melakukan investigasi lebih lanjut dan sedang mencari solusi perbaikan, sehingga pengguna yang terkena masalah tersebut diharapkan untuk memberikan feedback mereka melalui fitur "Send feedback" atau dengan tombol kombinasi ALT + SHIFT + I.
"We'd love to know if you're seeing this error message but not using an Adblock extension, or if the above workaround doesn't resolve the error. If so, please submit feedback through Microsoft Edge by holding down Shift+Alt+I within the browser, or navigating to the "…" menu, selecting "Help and feedback," then choosing "Send feedback." Please include a detailed description of what you're encountering, and select the checkbox to include diagnostic data." Catat Microsoft.
Meskipun dikatakan bahwa masalah ini mempengaruhi semua versi Edge Chromium (termasuk Stable, Beta, Dev dan Canary), namun tampaknya tidak semua orang mengalami masalah tersebut.
Nah saya sendiri tidak mengalaminya, apakah kamu mengalami hal yang sama? silahkan berikan pendapatmu dikolom komentar dibawah.