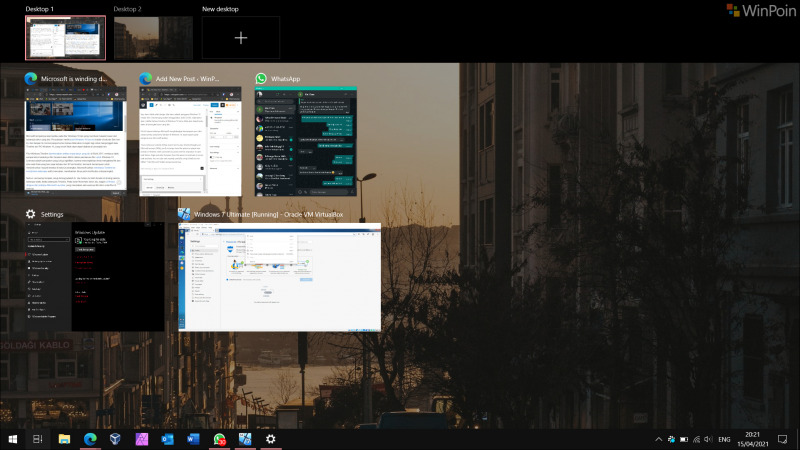 Timeline, sebuah fitur yang pertama kali diperkenalkan sekitar empat tahun lalu pada Windows 10 Fall Creator Update kini kabarnya telah mendapati sebuah penurunan atau downgrade pada fitur yang dimilikinya.
Yap, kamu tidak salah dengar, jika kamu adalah pengguna Windows 10 Insider Dev Channel yang sudah menggunakan build 21359, maka kamu akan melihat bahwa Timeline di Windows 10 kamu tidak akan dapat kamu akses di perangkat kamu yang lain.
Hal ini karena kabarnya Microsoft menghilangkan kemampuan sync dari setiap activity yang kamu lakukan di Windows 10, tepat seperti pada pengumuman Microsoft berikut,
"If you have your activity history synced across your devices through your Microsoft account (MSA), you'll no longer have the option to upload new activity in Timeline. AAD-connected accounts won't be impacted. To view web history, Edge and other browsers have the option to look back at recent web activities. You can also view recently used files using OneDrive and Office." Tulis Microsoft dalam pengumumannya.
Baca Juga : Microsoft Rilis Windows 10 Insider Preview Build 21359
Meskipun fitur Timeline mengalami sedikit downgrade, namun hal ini menurut saya bukanlah sebuah masalah, namun untuk pengguna yang memiliki dua perangkat atau lebih dan sering membuka file yang terintegrasi di OneDrive dengan cepat, tentu fitur ini sangat bermanfaat sekali, terlebih untuk akses dan multitasking dengan cepat.
Nah bagaimana menurutmu? apakah kamu suka dengan kemampuan Timeline ini? atau lebih suka untuk menonaktifkannya seperti saya? komen dibawah guys.
Referensi : Microsoft