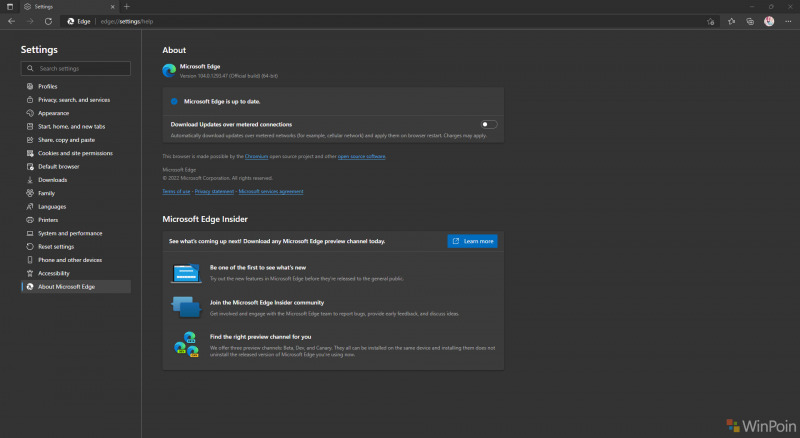 Beberapa waktu lalu dikabarkan bahwa Microsoft telah mengaktifkan salah satu fitur keamanan di Microsoft Edge (Enhanced Mode) secara default untuk para pengguan Edge Beta, dan kini selang beberapa waktu kemudian akhirnya Edge 104 yang kemarin ada di rilis Beta, kini telah mencapai rilis Stable.
Baca Juga :
Nah versi Microsoft Edge Stable yang kini diirilis untuk semua orang adalah versi 104.0.1293.47, dimana didalamnya ada sejumlah fitur baru loh, termasuk hadirnya Enhanced Security Mode yang kini sudah otomatis aktif tanpa perlu diaktifkan secara manual oleh pengguna.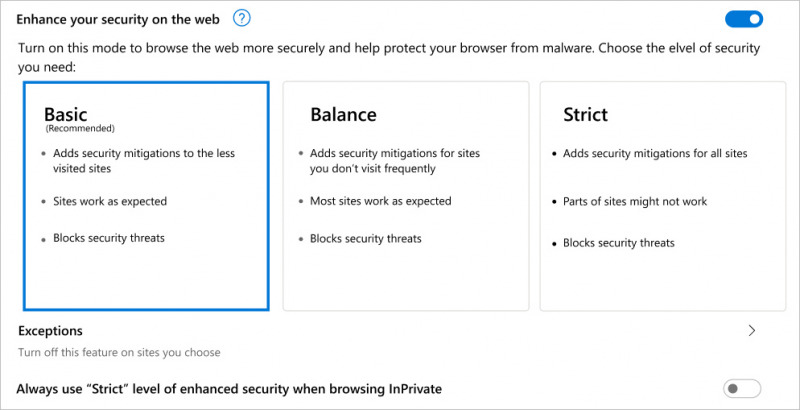 Selain hadirnya Enhanced Security Mode, ada sejumlah fitur lain termasuk FirtRunExperience dimana dengan ini pengguna akan direkomendasikan untuk menghubungkan akun Google ketika Microsoft Edge Chromium pertama kali dijalankan.
Selain itu kawan kawan, ada juga sejumlah policies baru yang mana diantaranya adalah:
AllowedDomainsForApps – Define domains allowed to access Google Workspace
AskBeforeCloseEnabled – Get user confirmation before closing a browser window with multiple tabs
BrowserCodeIntegritySetting – Configure browser process code integrity guard setting
DoubleClickCloseTabEnabled – Double Click feature in Microsoft Edge enabled (only available in China)
ImportOnEachLaunch – Allow import of data from other browsers on each Microsoft Edge launch
QuickSearchShowMiniMenu – Enables Microsoft Edge mini menu
PasswordManagerRestrictLengthEnabled – Restrict the length of passwords that can be saved in the Password Manager
PDFXFAEnabled – XFA support in native PDF reader enabled
TextPredictionEnabled – Text prediction enabled by default
Secara umum, memang tidak banyak hal baru di Microsoft Edge 104, dan saya rasa itu justru baik, karena semakin banyak hal baru, terlebih hal yang tidak diperlukan, maka itu justru malah membuat Microsoft Edge Chromium makin banyak dibenci orang orang.
Bagaimana menurutmu? sudahkah kamu memperbarui browser Microsoft Edge Chromium kamu? komen dibawah guys.
Via : Microsoft