Kemarin Microsoft merilis update baru ke Microsoft Edge Chromium Dev Channel, update 82.0.432.3 menbawa sejumlah fitur baru didalamnya.
Lalu fitur apakah itu? berdasarkan halaman Changelog Edge Dev, Build 82.0.432.3 untuk Edge Chromium membawa sebuah Game, ya game guys. Pengguna bisa mengakses game tersebut dengan masuk ke URL : edge://surf.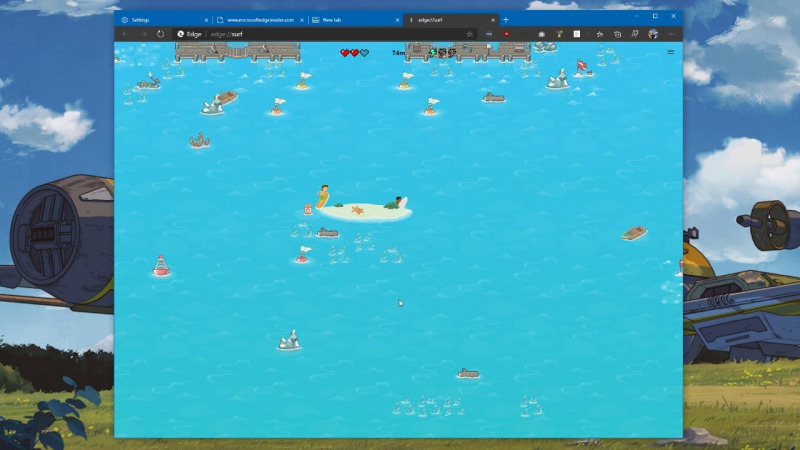 Terkait game ini, Microsoft pertama kali memperkenalkannya sebagain bagian dari #FindWhatsNext Campaign pada bulan November lalu, dan sekarang pengguna Edge Dev sudah bisa mengaksesnya.
Selain itu beberapa peningkatan juga telah ditambahkan untuk game surf / surfing ini sendiri, termasuk beberapa mode baru seperti time trial, dukungan untuk input method baru seperti touch dan gamepad, dan tentu saja peningkatan accessibility, hight stores, dan lainnya.
Diluar peningkatan Game, Edge build 82.0.432.3 membawa peningkatan dimana kini pengguna memungkinkan untuk menampilkan tombol share pada address bar dan fitur lainnya bisa kamu lihat pada changelog dibawah :
Added the ability to put the Share button next to the address bar.
Added a management policy to disable the Share button.
Added the ability to hide the Home button by right-clicking it.
Added support for Windows Information Protection.
Added a management policy to control the automatic creation of on-premises work or school profiles (profiles with a DOMAIN\NAME format instead of a NAME@COMPANY.COM format).
Added extra security to the Payment info Settings page by requiring the OS-level password in order to edit or delete cards.
Added support for syncing the "Allow extensions from other stores" setting to other devices.
Dengan ditambahkannya game ke Edge Chromium, tentu ini menjadi salah satu game untuk saingan game Dino pada Google Chrome.
Nah bagaimana menurutmu? silahkan berikan komentarmu dibawah.
Via : Microsoft