Akhirnya untuk kamu pengguna Windows 11 Insider Beta Channel ada berita menarik nih, dimana jika kamu perhatikan di Windows Update, Microsoft telah meluncurkan update baru yang menjadi update pertama ditahun ini guys.
Update ini hadir dengan kode KB5022364, dimana update ini akan mengubah Build OS menjadi 22621.1095 dan 22623.1095, dan iya seperti yang telah kita tahu, Windows 11 Insider Beta masih dipisahkan dalam dua build berbeda yang bisa pengguna pilih, dimana build 22621 hadir dengan fitur baru namun dalam posisi default off, sedangkan build 22623 hadir dengan sebaliknya.
Di Update ini apakah ada perubahan?, tentu saja ada kawan kawan, dimana salah satunya adalah seach box design di Start Menu kini telah berubah dan menjadi lebih rounded seperti pada gambar berikut.

Perubahan desain tersebut hadir baik di Build 22621 dan 22623, selain itu khusus untuk Build 22623 ada beberapa perubahan lain, termasuk Quick Assist kini tidak menjadi bagian dari Windows Tools di Start Menu dan dapat kamu lihat langsung di App List.
Selain itu masih untuk build 22623 ada beberapa perbaikan mencakup diantaranya :
Fixed a couple issues which could result in the top half of the taskbar getting clipped.
Fixed an issue where the uninstall app dialog might not display correctly in the Start menu in certain cases, making the buttons inaccessible.
Fixed an issue causing filtering by publisher name to not match correctly on the Processes page.
Fixed an issue causing some services to not show in the Services page after filtering is applied.
Fixed an issue which resulted in new processes appearing in a filtered list if launched while a filter is set.
We fixed the issue where some dialogs were not rendering in the correct theme when applied from Task Manager Settings page.
The issue causing the data content area of the Processes page to flash once when theme changes are applied in the Task Manager Settings page is fixed.
The Startup apps page in Task manager will now list apps as expected.
Fixed an issue which could cause a black flash when opening Task Manager.
If there are no matching search results, Task Manager will now explicitly say that.
Fixed a Task Manager crash that could happen when attempting to end certain processes.
You can now set focus to the search box by pressing CTRL + F.
Sedangkan untuk Build 22621 dan 22623 ada beberapa perbaikan yang juga dihadirkan mencakup:
We've made improvements to reliability to fix some crashes and the performance of animations and transitions.
We fixed the issue causing the search box on taskbar to not render correctly and display visual artifacts.
We fixed the issue causing layout issues with right-to-left display languages like Arabic.
New! We changed the experience for preview .NET Framework updates. After you installed this update, all future preview (optional) .NET Framework updates would display on the Settings > Windows Update > Advanced options > Optional updates On that page, you could control which optional updates you wanted to install.
We fixed an issue that affected Windows Server 2022 domain controllers (DC). They stopped responding when they handled Lightweight Directory Access Protocol (LDAP) requests.
We fixed an issue that might have occurred when the Input Method Editor (IME) was active. Applications might have stopped responding when you used the mouse and keyboard at the same time.
We fixed an issue that affected exe. It stopped responding.
We fixed an issue that affected how fast you could copy items from a network to a local computer. For some users, the copy speed was slower than expected.
We fixed an issue that affected certain systems that had firmware Trusted Platform Modules. (TPM). This issue stopped you from using AutoPilot to set up those systems.
We fixed a resource conflict issue between two or more threads (known as a deadlock). This deadlock affected COM+ applications.
We fixed an issue that affected devices that were subject to Microsoft Exploit Protection Export Address Filtering (EAF). Some applications stopped responding or did not open. These included Microsoft Office and Adobe Reader.
We fixed an issue that affected exe. It randomly stopped you from signing in or signing out.
We fixed an issue that might have occurred when you converted or reconverted Japanese Kanji using a multibyte character set (MBCS) app. The cursor might have moved to the wrong location when you typed.
We fixed an issue that affected exe. It stopped responding while connecting to a RemoteApp and Desktop Connection.
We fixed an issue that might have affected FindWindow() or FindWindowEx(). They might have returned the wrong window handle.
We fixed an issue that affected picture files you found using search on the taskbar. This issue stopped you from opening those pictures.
Nah ada banyak banget perbaikan yang dihadirkan dan tentu wajib banget nih kamu install update ini, untuk mendapatkan update kamu sudah bisa mendownloadnya dari halaman Settings > Windows Update, kemudian langsung saja download update KB5022364 yang tersedia disana.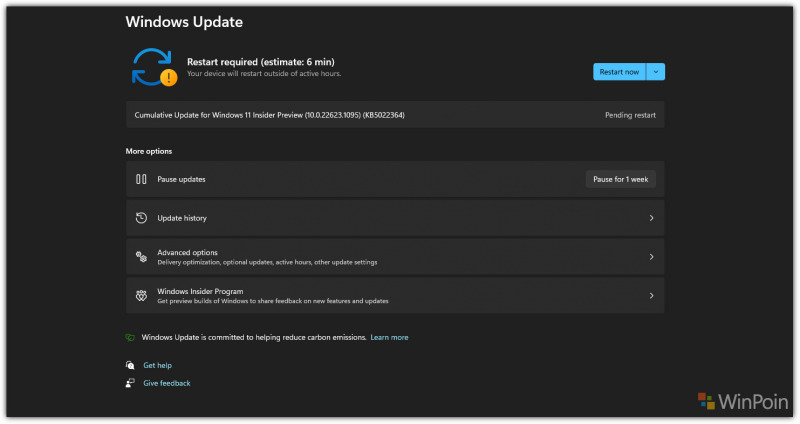 Via : Microsoft