Microsoft Validation OS, ini adalah sebuah OS Windows 11 super ringan yang memang tidak ditujukan untuk end user, dimana OS ini adalah OS berbasiskan Command Line dan dirancang untuk vendor perangkat keras atau perangkat lunak, developer, dan teknisi untuk membantu mendiagnosis dan mengurangi masalah.
Baca Juga : Twitter Batasi Tweet Yang Dapat Pengguna Baca
"Microsoft Validation OS is a lightweight, fast, and customizable Windows 11-based operating system that you can use on the factory floor to diagnose, mitigate and repair hardware defects during Windows device manufacturing. Validation OS boots into a Command Line environment to increase reliability on the factory floor and supports running Win32 apps, smoothing the transition from early hardware bring-up to retail OS and apps development." ungkap Microsoft. 
Mengenai Microosft Validation OS, baru baru ini tanpa ada pengumuman apapun, Microsoft telah memperbarui Build dari ISO Validation OS ke Build 22621.1702, dengan kata lain kini ISO dari Validation OS ini telah menggunakan Windows 11 22H2 Moment 2 Update.
Baca Juga : Microsoft Permudah Aktifkan Mouse Gesture di Microsoft Edge Chromium Canary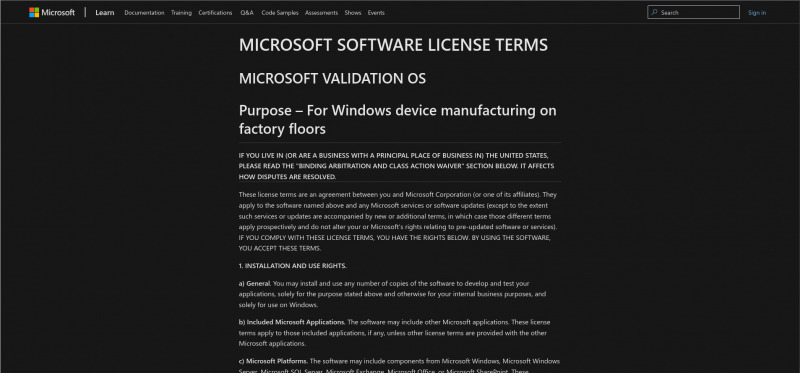 Dengan diperbaruinya OS ini ke Build terbaru, tentu nantinya ujicoba OS ini bisa lebih nyaman untuk digunakan dalam proyek berbasis Windows 11 yang sedang dikembangkan.
Nah karena OS ini memang bukan ditujukan untuk kita sebagai pengguna akhir, namun untuk kamu yang ingin mencoba dan mengulik OS ini lebih dalam, kamu bisa mendownload file ISO dari Microsoft Validation OS dari halaman berikut.
Via : Microsoft