Sejak awal dirilis Windows 10 sudah mendapakan banyak perubahan, seperti Fluent Design, Dark Mode, dan lainnya. Namun satu yang banyak pengguna keluhkan, Task manager di Windows 10 tidak menerima update yang signifikan.
Berdasarkan sebuah postingan di halaman feedback hub, pengguna meminta Microsoft untuk menambahkan Dark Theme didalam Task Manager Windows 10.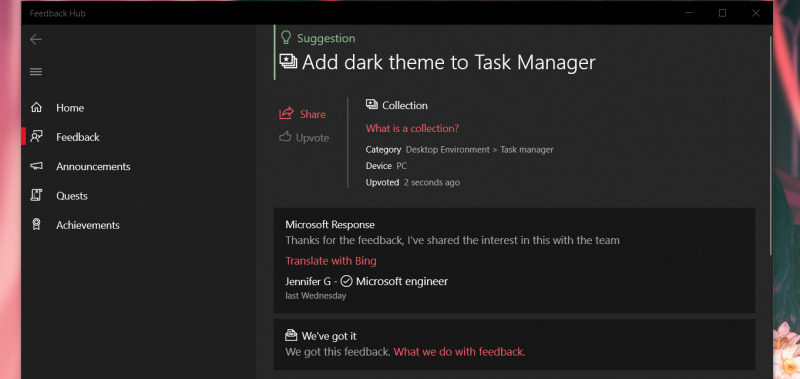 Feedback itu pada saat saya menulis artikel ini sudah mendapatkan 2067 Upvote, dan Microsoft memberikan respon "Thanks for the feedback, I've shared the interest in this with the team," Microsoft engineer Jen Gentleman.
"So many PURE WHITE elements (including this text box as I'm typing in it) exist in dark mode, for every app, and it's genuinely painful on the eyes," kata seorang pengguna berkomentar di Feedback Hub.
"Would love this, providing that there be an in-app setting for manually choosing Light, Dark, or System Theme – as is the case on well-made universal apps," kata yang pengguna lain.
Tentunya akan terlihat menarik jika Task manager mendapatkan implementasi dark mode, dimana desain dari Windows 10 akan terasa semakin konsisten. Kamu bisa melihat saran dari feedback tersebut dihalaman berikut.
Via : Feedback Hub