Sesuai dengan roadmap pengembangan PowerToys, Microsoft minggu ini merilis PowerToys 0.23, namun berbeda dengan apa yang sebelumnya telah hadir di versi Pre-Release versi 0.22, tidak ada fitur baru dalam rilis ini, termasuk 'Video conference mute' yang berfungsi untuk melakukan 'mute' baik itu untuk Audio, atau Video secara global, tidak tersedia juga di versi baru ini.
Yap, memang dalam versi 0.23 yang dirilis ini tidak hadir dengan fitur baru seperti pada update mayor PowerToys sebelumnya dan seperti apa yang dijanjikan dalam roadmap yang telah dibagikan, namun meskipun begitu ada sejumlah perbaikan penting yang hadir pada versi ini yang dimaksudkan untuk meningkatkan stabilitas aplikasi PowerToys.
Lalu apa saja perbaikan yang diberikan dalam versi ini?, berikut adalah sejumlah perbaikan dan peningkatan kualitas dari fitur dan aplikasi PowerToys.
General
Localization pipeline is flowing from our Github to the loc system and back. 0.25 should be localized now.
The EXE installer should be at parity now with the MSI. Please go to the wiki for (installer args)[https://github.com/microsoft/PowerToys/wiki/Installer-arguments-for-exe]
FancyZones
Fixed bug on not seeing a newly attached screen
Fixed spanning across monitors bug
Added in default layout for new users, a Priority Grid
Added keyboard support to grow / shrink to multiple zones
General bug fixes
PT Run
Multiple crash bugs fixed. Prioritized any users reported along with top hits from Watson reporting
Stopped PT Run from interfering with an install
Fixed folder bug if it had a # in it (Thanks @jjw24 for the PR!)
Fixed a screen flicker for
General bug fixes
Keyboard manager
Multiple crash bugs fixed. Prioritized any users reported along with top hits from Watson reporting
Fixed multiple accessibility issues.
General bug fixes
Preview Pane
Added in Frontmatter and better (but still basic) latex support.
Settings
Fixed scaling issue for responsive design on Image Resizer
Fixed crash on empty color value.
Fixed crash for toggling FancyZones on/off
Fixed 0x00 NFTS crash for settings
Fixed multiple accessibility issues.
Layout adjustments (Thanks @niels9001)
General bug fixes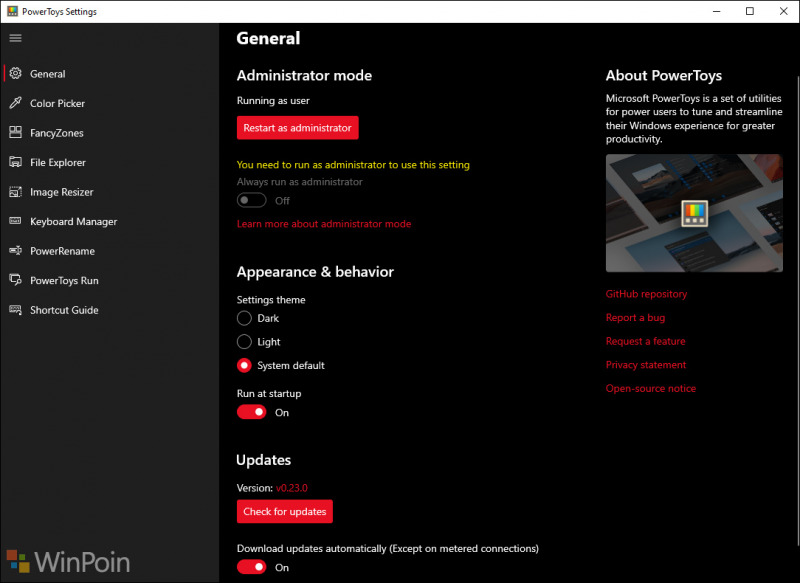 Untuk kamu yang belum melakukan update, kamu bisa update aplikasi PowerToys-mu pada halaman Settings > General > Check For Updates. Atau kamu bisa mendownloadnya secara manual melalui link berikut.
Via : GitHub