Microsoft telah bekerja sangat keras untuk menambahkan dan menyempurnakan Windows 10, dengan memberikan penambahan fitur dan perbaikan baru disetiap Update Windows 10 dirilis, namun Microsoft harus sedikit kecewa karena masih banyak dari sebagian besar pengguna Windows 10 hanya Masuk dan Keluar dari Sistem Operasi tanpa memperhatikan layanan Microsoft lain seperti OneDrive, Timeline, Windows Hello dan lainnya.
Terkait masalah tersebut, kali ini Microsoft memberikan sebuah Prompt baru pada Windows 10 19H1 yang bertuliskan "Let's make Windows even better – this should not affect what you've already set up" yang muncul pada versi build insider fast ring 18317 yang baru.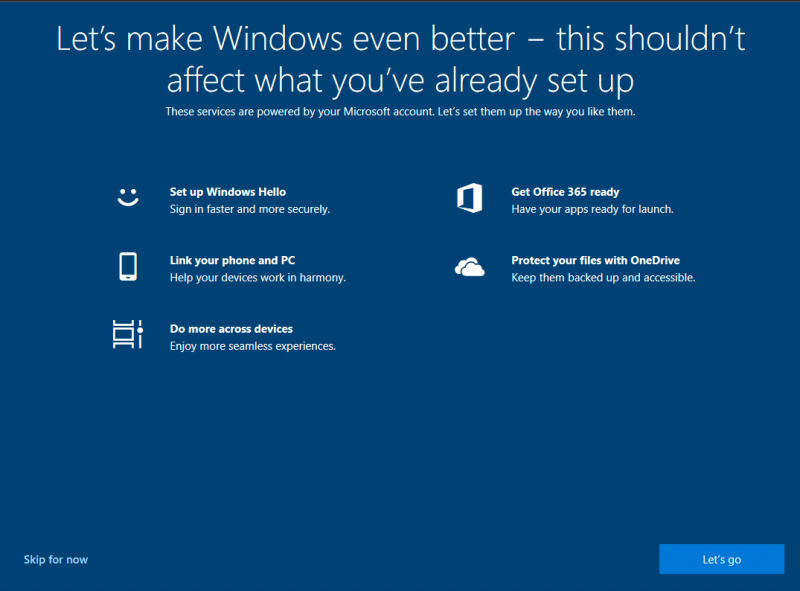 Prompt baru pada PC Windows 10 yang baru diseting untuk mendorong pengguna Windows 10 agar menautkan ponsel dan PC mereka, menginstal aplikasi seluler mereka, dan menggunakan OneDrive dan Office 365.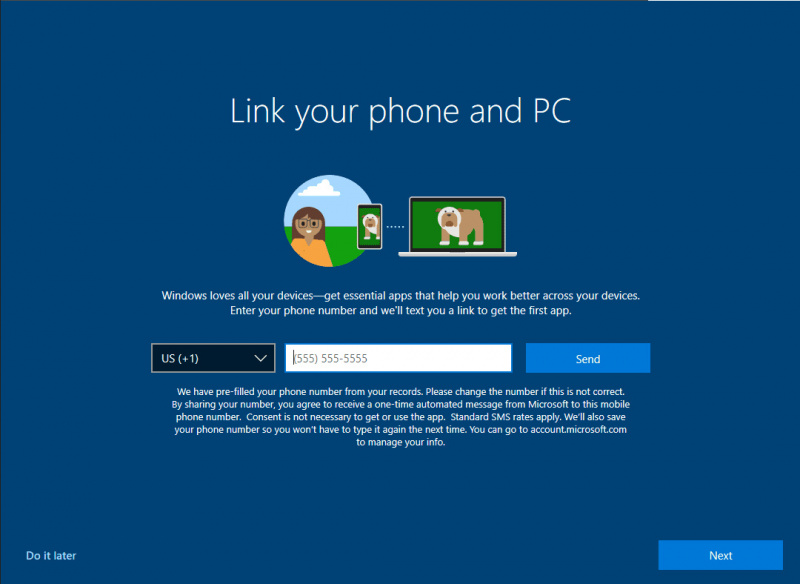 Prompt baru ini juga akan otomatis muncul ketika system pertama kali diinstal pada pc, namun tentunya kebanyakan orang akan tetap melakukan skip terkait kemunculan prompt ini, Layanan yang diiklankan pada Prompt baru Windows 10 ini meliputi :
Set up Windows Hello — Sign in faster and more securely
Link your phone and PC — Help your devices work in harmony
So more across devices — Enjoy more seamless experiences
Get Office 365 ready — Have your apps ready for launch
Protect your files with OneDrive — Keep them backed up and accessible
Namun meski Prompt ini akan muncul otomatis ketika pertama kali system diinstal, kemungkinan besar prompt tersebut tidak akan muncul bagi pengguna yang melakukan upgrade dari versi Windows 10 sebelumnya, namun tentu saja kemungkinan hal ini akan berubah kedepannya.
Bagaimana menurutmu terkait Prompt baru ini? apakah useless? atau malah membantu? berikan pendapatmu dikolom komentar dibawah. Kalo saya pribadi tentunya bakalan skip for now untuk prompt ini, kamu?
Via : ghacks