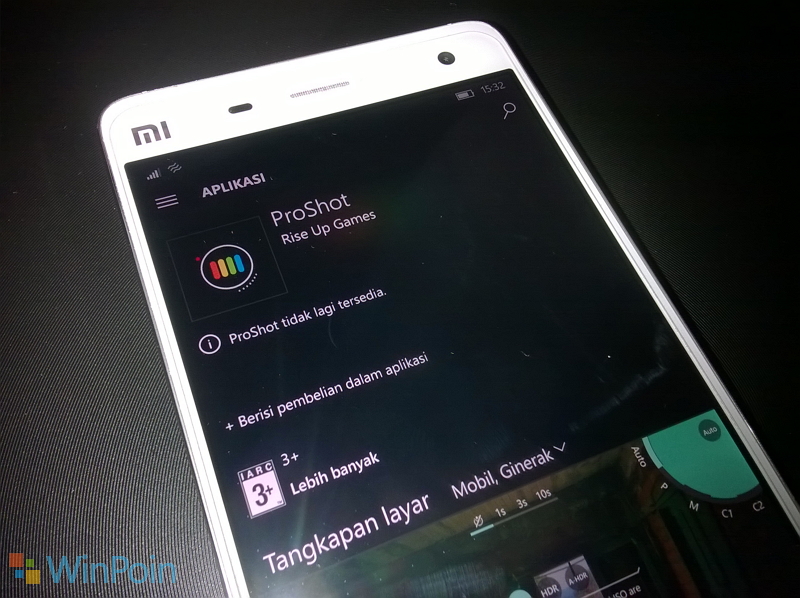 Walaupun sedikit terlambat dari rencana awal, karena beberapa waktu yang lalu Rise Up Game selaku pengembang aplikasi ProShot mengalami kendala. Namun, hari ini semua penantian kamu akan terbayar.
Karena pada hari ini aplikasi ProShot UWP telah resmi dirilis dan sudah tersedia di Windows Store. Namun sayangnya, aplikasi ini masih belum dapat diunduh secara global, hanya beberapa orang dan di wilayah tertentu saja yang sudah dapat mencicipi aplikasi ini.
Tampaknya aplikasi ProShot UWP masih memerlukan sedikit tambahan waktu, agar benar-benar tersedia di seluruh wilayah.
Berikut ini daftar fitur pada Apps ProShot UWP:
Auto, Program, Manual, and two fully configurable Custom modes
Full manual control over exposure, ISO, shutter speed and white balance
Normal, Bracket, Timelapse, and Video modes all with full manual controls, even during video recording
Light Painting (bulb) mode with Live Preview, and two submodes (Light Trail, Light Add)
Up to 4K Video
Live audio levels during video capture
Customizable video size, FPS and bitrate
Exposure bracketing
ISO priority and Shutter priority modes using the Auto ISO /
Auto shutter settings
Manual focus assist
Full resolution image capture
Quick access to 16:9, 4:3, and 1:1 shooting modes
Front-facing camera with full manual controls, support for video
Zoom with just one finger
Real-time ISO and shutter info
Battery meter
Grid overlay
Horizon Level
Quick access to OIS, GPS and UI sounds
Quick reset button
Runs on any Windows 10 device with a camera, including phone, tablet, laptop, PC, and Windows 10 potato (launch TBA)
Sayangnya, aplikasi ini merupakan aplikasi baru, bukan upgrade yah! Sehingga kamu harus mengeluarkan sedikit biaya untuk mendapatkannya. Namun jangan khawatir, karena pada hari ini hingga esok, aplikasi ProShot mendapatkan diskon yang lumayan.
Jadi, jika seandainya kamu memiliki uang lebih dan juga kamu menginginkan aplikasi ini segera unduh saja selagi ada diskon.
So, bagi kamu yang menginginkan aplikasi ini harus menggunakan link berikut, akan tetapi jika belum tersedia kamu harus menunggunya beberapa saat lagi. :)