Untuk pengguna Windows 10 mungkin sudah tidak asing lagi bahwa jika didalam Windows 10 sudah dimasukkan beberapa aplikasi yang mungkin tidak terlalu pengguna butuhkan, termasuk OneDrive atau Skype, dan itu kadang sulit untuk dihapus.
Sebelumnya kita memang bisa menghapus aplikasi bawaan tersebut dengan menggunakan Script Windows 10 Debloater yang dapat kamu download secara gratis di GitHub, namun menurut saya tools tersebut sudah obsolete karena developernya jarang mengupdatenya, dan terkait hal tersebut, baru baru ini ada sebuah tools yang fungsinya itu mirip mirip dengan Windows 10 Debloater dan cocok banget digunakan ketika instalasi Windows 10 baru saja selesai dilakukan.
Disebut dengan Windows 10 Setup Script, tools ini dapat kamu jalankan melalui Windows Powershell dan mendukung berbagai versi Windows 10 seperti 1809 (LTSC Enterprise 2019), 1903, 1909, 2004 dan bahkan mendukung juga test script untuk Windows 10 21H1.
Sang developer sendiri mengungkapkan bahwa ada 150 fungsi berbeda didalam script yang dibuat, seperti membersihkan folder TEMP, menghapus OneDrive dengan sempurna, dan kemampuan untuk mengganti lokasi user folders programmatically, dan tentu dengan segudang tweak dan telemetry yang dapat kamu lihat pada daftar dibawah.
Set up Privacy & Telemetry;
Turn off diagnostics tracking scheduled tasks;
Set up UI & Personalization;
Uninstall OneDrive "correctly";
Interactive prompts;
Change %TEMP% environment variable path to %SystemDrive%\Temp
Change location of the user folders programmatically (without moving user files) within interactive menu using up/down arrows and Enter key to make a selection

"Desktop";
"Documents";
"Downloads";
"Music";
"Pictures"
"Videos.

Uninstall UWP apps from all accounts with exception apps list with pop-up form written in WPF;
Turn off Windows features;
Remove Windows capabilities with pop-up form written in WPF;
Create a Windows cleaning up task in the Task Scheduler;

A toast notification will pop up a minute before the task starts

Create tasks in the Task Scheduler to clear

%SystemRoot%\SoftwareDistribution\Download
%TEMP%

Unpin all Start menu tiles;
Pin shortcuts to Start menu using syspin.exe

Three shortcuts are preconfigured to be pinned: Control Panel, "old style" Devices and Printers, and Command Prompt

Turn on Controlled folder access and add protected folders using dialog menu;
Add exclusion folder from Microsoft Defender Antivirus scanning using dialog menu;
Add exclusion file from Microsoft Defender Antivirus scanning using dialog menu;
Refresh desktop icons, environment variables and taskbar without restarting File Explorer;
Many more File Explorer and context menu "deep" tweaks.
Cara Menggunakan
Pertama silahkan download versi paling up-to-date;
Extract;
Selanjutnya silahkan masukkan perintah berikut:
Set-ExecutionPolicy -ExecutionPolicy Bypass -Scope Process -Force
Terakhir jalankan file dengan format .ps1 file via powershell.exe as Admin;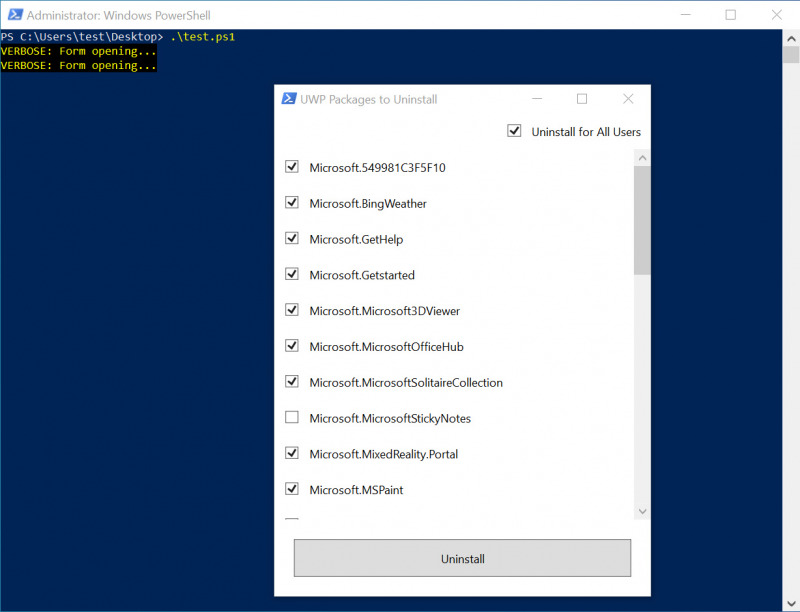 Tools ini menurut saya cocok banget digunakan untuk kamu yang ingin menambah performa dan menghapus aplikasi bawaan Windows 10 yang seandainya tidak kamu butuhkan, karena selain mudah untuk dijalankan, tools ini update parah, bahkan sampai ada Test Script hingga Windows 10 21H1.
Nah kamu sudah pernah coba tools ini? silahkan komen dibawah guys.