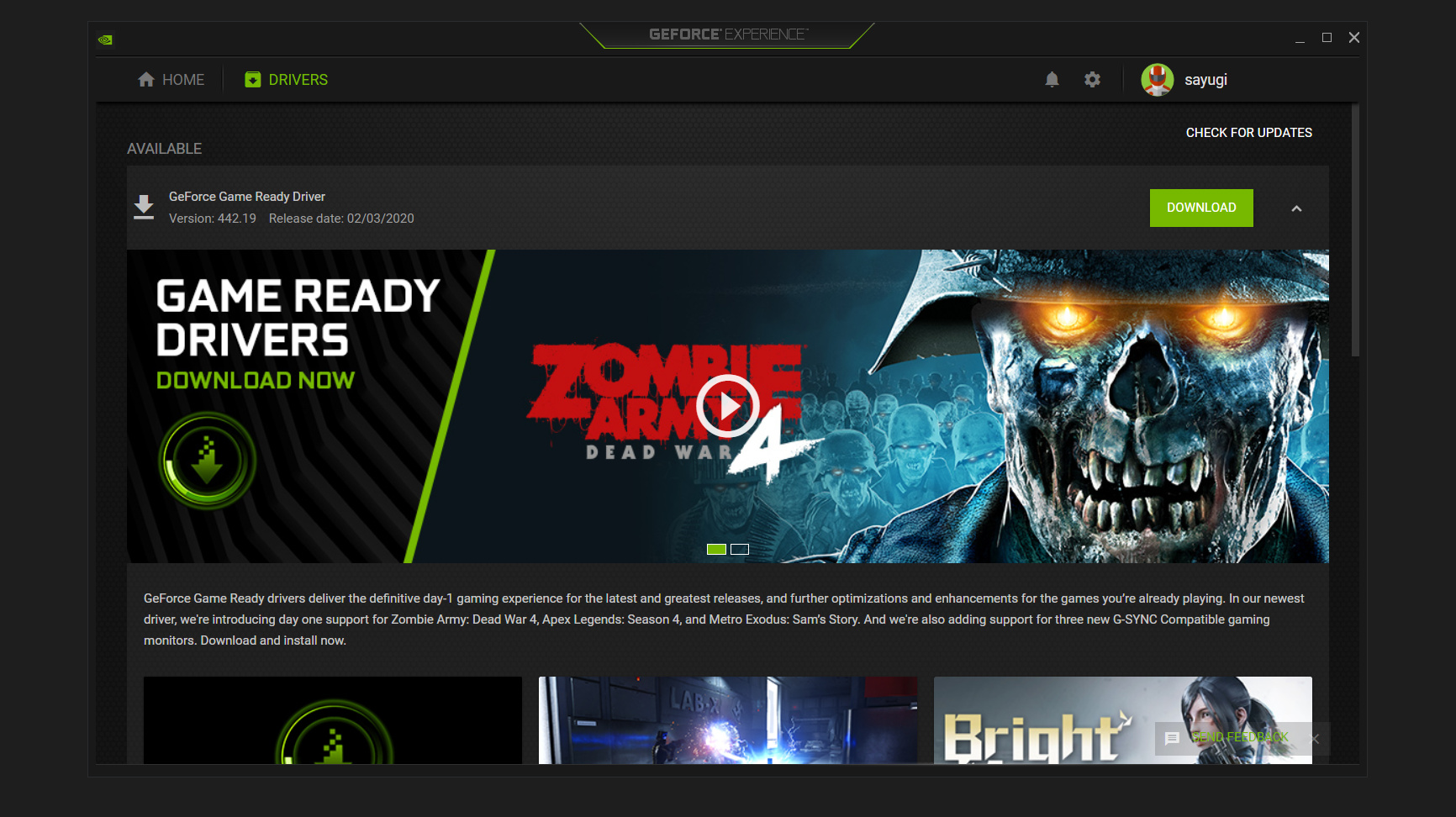 Kabar baik bagi pengguna Graphic dari Nvidia, karena Nvidia telah merilis Driver Nvidia 442.19 WHQL untuk perangkat yang didukung, yang kini mendukung beberapa games baru dan dukungan G-Sync Monitor.
Berdasarkan informasi dari halaman resminya, game baru yang didukung adalah Zombie Army: Dead War 4, Apex Legends season 4 update, and Metro Exodus: Sam's Story expansion.
Selain dari Game, dukungan untuk beberapa perangkat G-Sync Monitor juga telah ditambahkan, seluruh varian yang didukung bisa kamu lihat pada halaman resmi Nvidia berikut. Dan tiga diantaranya adalah :
ASUS VG259QM
Dell AW2521HF
LG 34GN850
Dalam update ini, Nvidia juga menyertakan beberapa perbaikan, yang pertama adalah mengijinkan pengguna untuk memaximumkan frame rate dari game dan memilih antara 20 – 1000 fps, dan kini mengaktifkan Global tab, yang otomatis diaktifkan untuk semua game virtual reality yang didukung. Selain itu beberapa perbaikan diantaranya adalah sebagai berikut:
[The Witcher 3: Wild Hunt – Blood and Wine]: The game may crash when a user reaches a specific cut scene. [2726931]
[Maxwell GPUs][OpenCL]: SETI@Home shows driver TDR occuring on Maxwell GPUs using OpenCL. [2739609]
[Call of Duty Modern Warfare]: Streaming of gameplay using OBS will randomly stop. [2743477]
[Battleye][Low-Latency Mode]: Launching Battleye with NVIDIA Low Latency Mode set to Ultra may cause DWM to reset. [2775906]
[SLI+G-SYNC Stutter]: User may experience minor stuttering when using NVIDIA SLI in combination with G-SYNC. [2778783]
[Doom (2016)]: The game crashes when launched on GeForce 600/700 series (Kepler) GPUs [2791124]
[NVENC]: Memory leak occurs. [2805384]
[Multiple Apps][SLI][G-SYNC]: Stuttering and drop in frame rate occurs during gameplay with SLI and G-SYNC enabled [200566678]
Selain perbaikan ada juga masalah yang ditemukan dalam update kali ini, dan diantarnanya.
Masalah di Windows 10 :
-Mortal Kombat]: The game may randomly crash to the desktop without error [2813996]
[Zombie Army: Dead War 4][Ansel/Freestyle]: The Ansel & Freestyle tabs are unselectable [2810884]
[Zombie Army: Dead War 4][Vulkan][HDR]:Corrupted flickering occurs when in-game HDR is enabled. [200585136] To work around, either disable HDR or use DirectX 12 mode.
[Tom Clancy's Rainbow Six Siege][Vulkan][G-SYNC]: When playing the game in Vulkan mode with G-SYNC enabled, flickering occurs after switching the game between full-screen and windowed mode.[200578641] To work around, either disable G-SYNC or play using an API other than Vulkan.
Masalah di Windows 7
[World of Warcraft: Battle for Azeroth][DirectX 12]: The game crashes when switched from DirectX 11 to DirectX 12 mode. [200574934]
Release Note yang lebih lengkap bisa kamu temukan pada halaman Nvidia berikut.
Nah bagi kamu pengguna Nvidia, kamu bisa langsung saja mengupdate driver kamu melalui Nvidia GeForce Experience, atau mendownloadnya pada link berikut.