Seperti biasa, hampir setiap Minggu Microsoft merilis versi baru Windows 10 Insider Preview untuk pengguna Insider Dev Channel, build 20206 yang dirilis ini seperti biasa, berisi dengan berbagai perbaikan baru untuk meningkatkan kestabilan Windows 10, tetapi kali ini bukan hanya itu, karena diversi ini pula diperkenalkan sebuah peningkatan baru pada Keyboard.
Emoji Picker Baru
Dalam Emoji Picker yang biasanya pengguna bisa akses dengan menggunakan kombinasi Windows + . (titik) atau Windows + ; (titik koma), kini ada beberapa peningkatan baru yang diperkenalkan, diantaranya ada Desain yang diperbarui, adanya Pencarian Emoji, dan adanya dukungan GIF Animasi yang juga bisa kamu cari menggunakan fitur pencarian.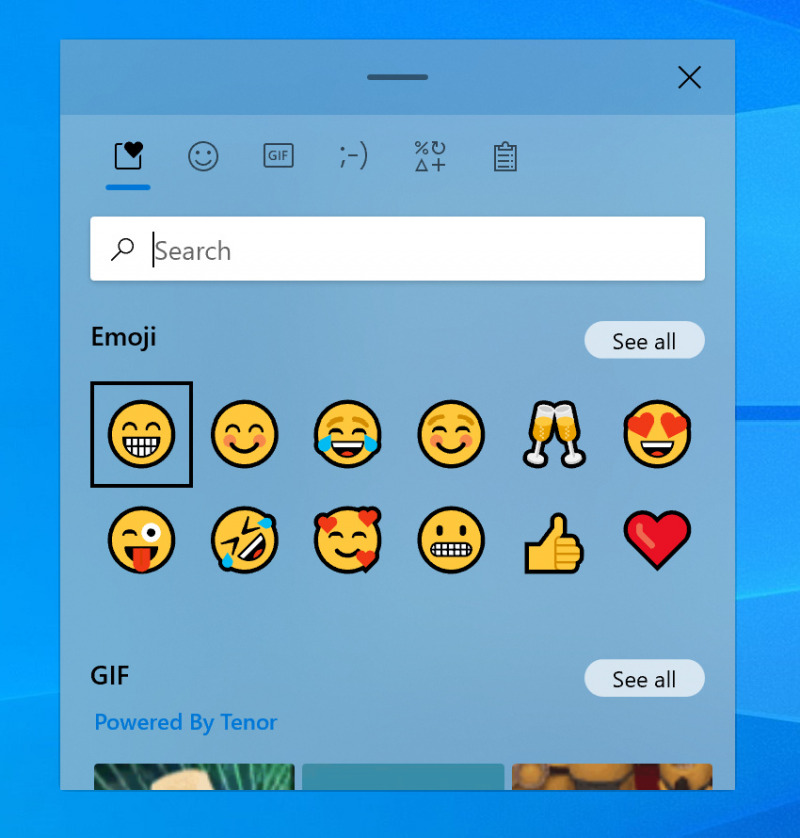 Seperti yang dapat kamu lihat pada gambar diatas, Desain yang diberikan kini selaras dengan Fluent Design Windows 10 dengan efek semi transparannya, ini tentunya cukup menarik loh, terutama bagi mereka pengguna yang sering menggunakan Emoji di Windows 10.
Voice Typing
Selain dari peningkatan Emoji Picker, yang kedua adanya Voice Typing yang akan memungkinkan pengguna mengetik dengan mudah dengan suara dimanapun di bidang teks di pc pengguna.
Ya bisa dibilang dengan fitur ini nanti kamu gak usah lagi melakukan pengetikan secara manual, tinggal ngomong aja dan semua akan dilakukan secara otomatis. Nah selain itu, ada beberapa fitur yang katanya ditingkatkan untuk Voice Typing ini, dan diantaranya meliputi, Desain yang Modern dan dioptimalkan untuk perangkat Touchscreen, Tanda baca otomatis, dan Back End yang diperbarui untuk pengalaman terbaik dalam mengetik menggunakan suara.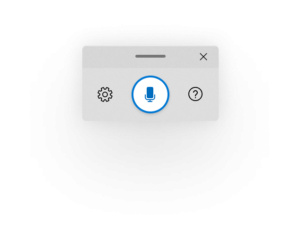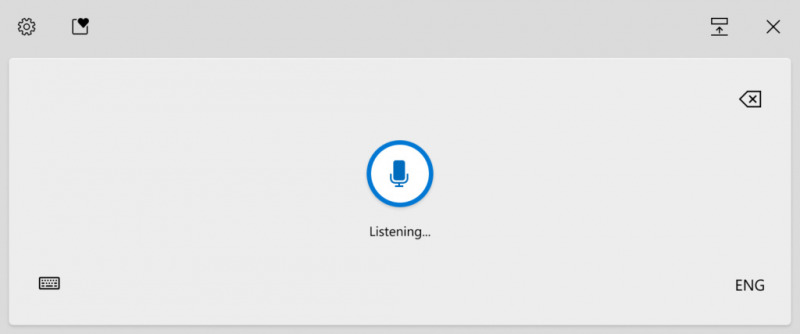 Tapi, sayangnya nih, Voice Typing ini untuk sekarang tidak tersedia untuk bahasa Indonesia, dan hanya tersedia untuk beberapa bahasa berikut saja,
English (US)
English (Australia)
English (India)
English (Canada)
English (United Kingdom)
French (France)
French (Canada)
Portuguese (Brazilian)
Simplified Chinese
Spanish (Mexico)
Spanish (Spanish)
German
Italian
Japanese**
Peningkatan Desain Keyboard
Desain pada Touchscreen Keyboard kini telah diperbarui dengan penambahan beberapa tweak kecil didalamnya, termasuk pembaruan ukuran key, dan tata letak yang dioptimisasi untuk kenyalaman dan akurasi.
Selain itu ada beberapa penyempurnaan yang terlihat didalam keyboard ini, dan diantaranya termasuk animasi dan suara baru ketika tombol di tekan, lalu ada child key yang telah dioptimalkan untuk entri yang lebih cepat, selain itu pengguna yang memilih untuk menggunakan undocked keyboard, pilihan sekarang dapat diakses langsung melalui tombol di candidate bar, dan tentu kamu juga bisa dengan mudah menggeser keyboard kemanapun kamu suka, selain dari beberapa yang telah disebutkan, kini didalam desain touch keyboard ada emoji search yang dapat kamu akses untuk mencari emoji dengan cepat dan adanya akses untuk voice typing seperti yang sebelumnya disebutkan.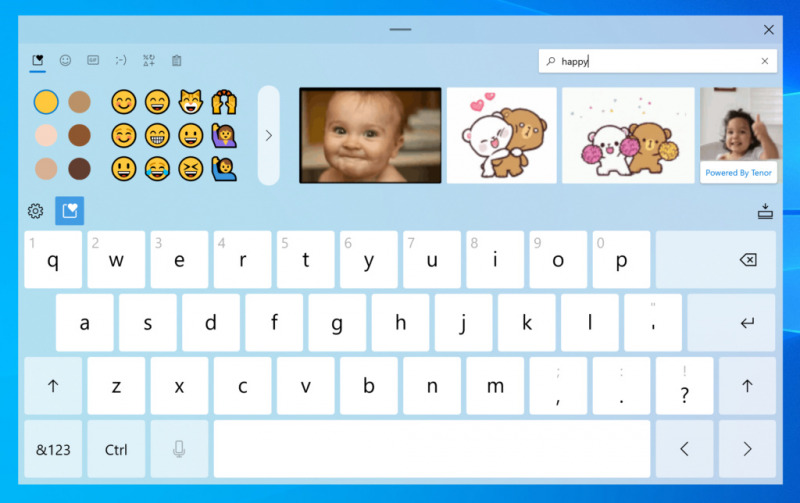 Pergerakan Kursor di Space Bar
Nah selain itu yang paling menarik dan hadir di Touch Keyboard ini adalah kini kamu bisa menggeser kiri atau kanan pada area spacebar untuk menggeser cursor ketika kamu mengetik.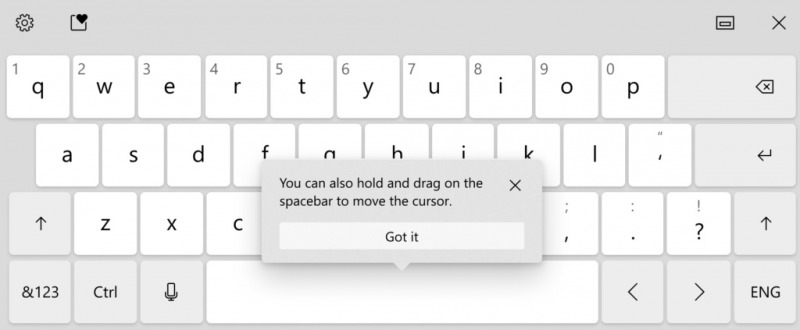 Bisa dibilang berbagai peningkatan yang telah disebutkan diatas, secara khusus diberikan untuk mereka pengguna perangkat Touchscreen, terutama bagian Keyboardnya, dan ya ini tentu adalah peningkatan yang bagus.
Selain itu tentu seperti biasa, ada sejumlah perbaikan yang hadir didalam Build baru ini, dan bagi kamu yang penasaran, berikut adalah diantaranya:
Change and Improvements
When annotated content and linked control Narrator commands are invoked on context which doesn't have any linked controls available, Narrator will now say "No linked item".
When setting focus to Windows Explorer in the Processes tab of Task Manager, we're updating the keyboard shortcut for the Restart option to now be Alt + R.
Fixes atau Perbaikan
We fixed an issue where the new option to enable DNS encryption wasn't persisting after update.
We fixed an issue leading to certain apps not launching due to nlsdl.dll being missing.
We fixed a race condition in the last few builds that could result in some Insiders experiencing scaling issues after waking their PC from sleep when using multiple monitors.
We fixed an issue that could result in the Narrator Home crashing when using the back button.
We fixed an issue where after adding a VPN connection, Narrator focus would move to the Settings home button rather than read that the VPN connection had been successfully added.
We fixed an issue from the last two flights resulting in Office documents opening blank when opened from File Explorer rather than from within the app.
We've fixed an issue in the Mail app preventing syncing with certain mail services.
We've fixed an issue causing some devices to receive bugchecks with error code KERNEL_MODE_HEAP_CORRUPTION.
We fixed an issue that could result in Task Manager erroneously indicating that a non-UWP app had been suspended.
We've mitigated an issue with the previous build causing some devices to download larger than normal amounts of data during the update process. This may have resulted in slower downloads and disk space warnings. If you continue to experience the issue with this build, please file a new feedback.
We've made improvements to address issues where the new taskbar experience for pinned websites wasn't working for some websites. If you continue encountering issues, please ensure you're running the latest version of Microsoft Edge Dev or Canary, and report the issue using the Feedback button in Microsoft Edge if you are.
Known Issues
We're looking into reports of the update process hanging for extended periods of time when attempting to install a new build.
We're working on a fix to enable live preview for pinned site tabs.
We're working on enabling the new taskbar experience for existing pinned sites. In the meantime, you can unpin the site from the taskbar, remove it from the edge://apps page, and then re-pin the site.
We're investigating reports of some Office applications crashing or missing after updating to a new build.
We're investigating reports of the Settings app crashing when opening Manage Disks and Volumes.
We're working on a fix for the Linux kernel not being installed when using the wsl –install command in the Windows Subsystem for Linux. For an immediate workaround run wsl –update to get the latest kernel version.
Nah untuk kamu pengguna Insider Dev Channel nih, silahkan kamu update ke versi Build 20206 untuk mendapatkan sejumlah pembaruan yang telah disebutkan diatas, silahkan akses Windows Update dan klik check for updates untuk mendapatkan update ini, terlebih nih jika kamu adalah pengguna Touchscreen, update ini cukup menarik untuk dicoba.
Via : Microsoft