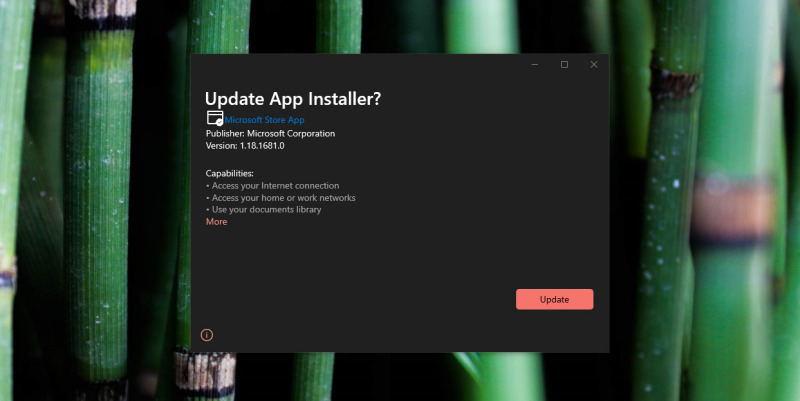 Windows Package Manager atau dikenal juga dengan winget baru baru ini mendapatkan versi baru 1.3.1681 RC atau Release Candidate, dimana dalam versi ini pengguna sudah bisa melaukan instalasi aplikasi portable secara langsung.
Se[erti yang dijelaskan dalam github issues 182, fitur baru di winget ini akan memungkinkan pengguna untuk melakukan instalasi aplikasi portable secara langsung dengan winget, dimana sesuai deskripsinya, aplikasi portable yang diinstall akan di extract dan disimpan di Program Files kemudian akan dibuatkan sebuah shim redirection dari program dan ditambahkan directory ke PATH.
Nah berikut adalah changelog dari Windows Package Manager 1.3.1681:
Support for installation of portable/standalone apps
Add a notes/info field to manifests
Add an optional URL to Expected Return Codes
Manifest Field for User Manual / Documentation
Add alternative version number field to manifest to make correlation with entries in Add/Remove programs more reliable
Setting for always using verbose logs
winget –info should print the system architecture
An even better progress bar
Untuk kamu yang ingin mencoba versi baru ini, terlebih untuk kamu para pengguna aktif winget kamu sudah bisa mendapatkan versi baru ini melalui halaman github berikut.
Sedikit informasi bahwa ada sejumlah known issues dalam versi ini, dimana itu mencakup:
Searching for dotnet package
Allow winget to install MS Store packages without account just like the MS Store
–include-unknown not functioning as expected
Includes a fix for an App Installer bug that was causing crashes due to null pointer reads
Via : GitHub