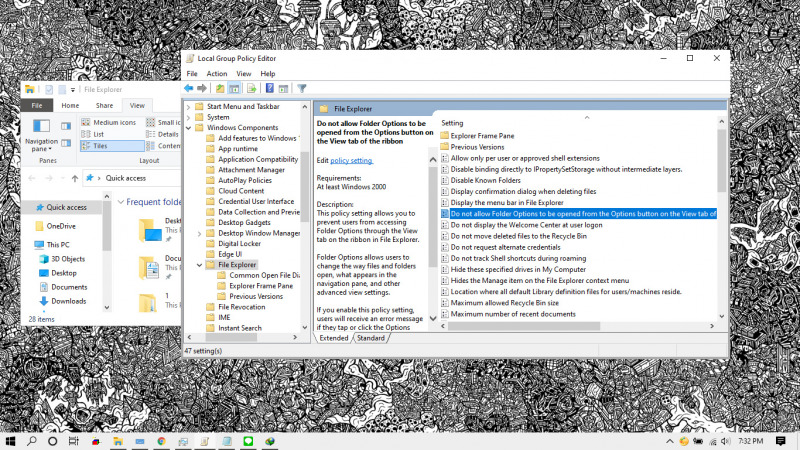 Pada artikel kali ini, WinPoin akan menunjukan bagaimana cara memblokir akses ke Folder Options di Windows 10. Folder Options ini berisikan pengaturan yang berkaitan dengan File Explorer, misalnya saja menampilkan file yang tersembunyi.
Untuk alasan keamanan, mungkin kamu terfikir untuk mematikan opsi ini supaya tidak sembarang orang dapat mengaksesnya.
Baca juga tutorial Windows lainnya:
Memblokir Folder Options di Windows 10 dengan Group Policy Editor
Buka Group Policy Editor.
Navigasi ke User Configuration > Administrative Templates > Windows Components > File Explorer.
Pada panel kanan, klik 2x pada opsi Do not allow Folder Options to be opened from the Options button on the View tab of the ribbon.
Klik opsi Enabled dan pilih OK untuk menyimpan pengaturan.
Done.
Setelah proses selesai, kamu bisa mengecek File Explorer untuk memastikannya, dimana opsi Change folder and search options tidak dapati dipilih. Untuk mengembalikannya seperti semula, kamu dapat memilih opsi Not Configured pada langkah ke-4.