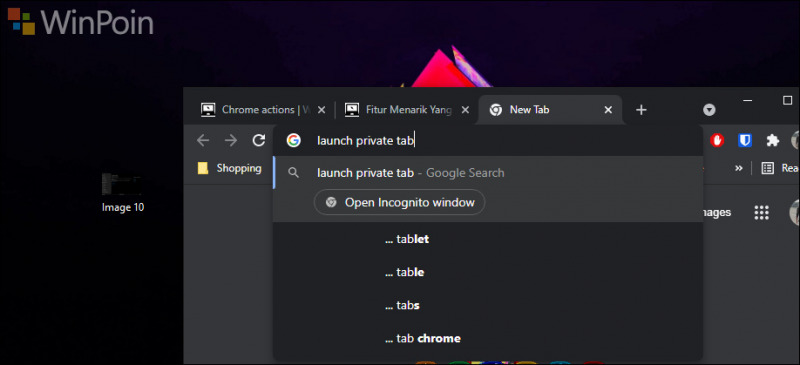 Seperti yang sudah kita tahu, Google telah menambahkan Chrome Actions / Direct Actions pada Google Chrome sejak pada versi 87, dulu meskipun kita harus mengaktifkan fitur tersebut via Flags experimental namun kini fitur tersebut sudah dapat kita gunakan tanpa ada hal apapun yang diaktifkan.
Dahulu, ketika pada Google Chrome 87, hanya beberapa perintah dasar saja yang mana mencakup update browser untuk melakukan update Google Chrome, incognito untuk masuk ke mode incognito, edit password untuk masuk dan melakukan pengeditan pada halaman saved password, translate this untuk mengalih bahasakan halaman yang kamu buka, wipe cookies, delete history, clear cache, untuk menghapus browsing data, dan edit credit card, yang mana untuk mengedit saved payment card.
Waktu terus berjalan, dan Google terus memperbarui browser Chrome mereka, dan kini sudah ada banyak sekali perintah yang dapat pengguna gunakan, dan berikut WinPoin rangkum daftar perintah tersebut.
| ACTION | CONTOH KAYA YANG AKAN MEN-TRIGGER ACTION | MANUAL-NYA dan INFO SINGKAT |
| --- | --- | --- |
| Clear browsing data | "Delete history""Clear cache""Wipe cookies""Delete Chrome cookies" | Settings >  Clear browsing data. |
| Manage passwords | "Edit passwords""Change password""Update credentials" | Settings > Passwords. |
| Manage payment methods | "Edit credit card""Update card info""Manage payment methods" | Settings > Payment methods. |
| Open incognito window | "Incognito""Launch private tab""Open private window" | CTRL + SHIFT + N |
| Translate page | "Change language page""Translate this page""Translate web page" | Klik kanan > Translate to (bahasa yang telah disesuaikan). |
| Update Chrome | "Update browser""Upgrade google chrome""Chrome updates" | Settings > About Chrome. |
| Change Google password | "Change gmail password""Reset Gmail password""Change my gmail password" | Ini akan membawa kamu ke akun Google Kamu selanjutnya mengganti passwordnya. |
| Create doc | "Create Google doc""Open Workspace document""Make gsuite doc" | Ini untuk membuka sebuah dokumen baru di Google Doc |
| Create event | "Create Google cal invite""New Google calendar invite""Schedule Google invite" | Ini untuk membuat dan membuka event baru di Google Calendar. |
| Create form | "Start Google survey""New Workspace form""Make new G Suite form" | Ini untuk membuat Form baru di Google Form. |
| Create note | "New Google note""Create G suite note""Start Workspace note" | Ini untuk membuat catatan baru di Google Note. |
| Create presentation | "Create Workspace deck""New Google presentation""Start Google preso" | Ini akan membuat dan membuka persentasi di Google Persentations. |
| Create sheet | "Start Google Chrome sheet""Create workspace spreadsheet""New g suite spreadsheet" | Ini akan membuat dan membuka dokumen di Google Sheet. |
| Create site | "Create Google site""Make Workspace website""Start g suite site" | Ini untuk membuat dan membuka sebuah Website / Site di Google Sites. |
| Manage addresses | "Edit addresses""Add address""Change shipping address" | Settings > Addresses and more. |
| Manage cookies | "Block all cookies""Manage cookies""Allow all cookies" | Settings >  Cookies and other site data. |
| Manage Google Account | "Manage my Google account""Fix Google account""Control my Google account" | membuka myaccount.google.com. |
| Manage security settings | "Browse safely""Manage security keys""Change certificates" | Settings > Security. |
| Manage site settings | "Control site settings""Adjust site permissions""Change permissions" | Settings > Site Settings. |
| Manage sync | "Edit sync""Change Chrome sync""Manage sync | Settings >  Advanced. |
| Run Chrome safety check | "Security check""Run safety check""Use password checkup""Run security checkup" | ISettings >  Safety check. |
| Show Chrome tips | "New Google Chrome features""Learn Google Chrome features""Chrome features" | Membuka tips yang hampir enggak pernah saya baca. |
Nah cukup banyak banget bukan?, untuk menggunakan perintah diatas, pastikan kamu telah menggunakan Google Chrome 92 atau yang lebih baru, nanti mungkin akan ada sejumlah perintah baru seiring berkembangnya Google Chrome, jadi pastikan kamu terus memperbarui browser tersebut ya.
Via : Techdows