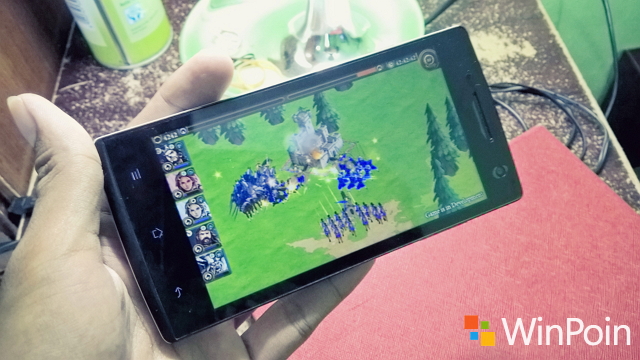 Kepastikan akan dirilisnya game 'Age of Empires : World Domination' untuk platform Windows Phone hingga sekarang masih belum menemukan titik terang.
Berawal dari bulan april tahun 2014 lalu yang mengumumkan bahwa game ini akan tersedia dalam 3 platform yakni Android, iOS dan Windows Phone. Hingga penghujung tahun 2015, game ini hanya tersedia untuk pengguna Android dan iOS saja, sementara untuk pengguna Windows Phone masih harus gigit jari hingga tahun 2016 ini.
Menanggapi hal tersebut, Windows Central mendapatkan balasan email atas pertanyaan apakah 'Age of Empires : World Domination' tetap akan dirilis ke Windows Phone atau tidak, Berikut isi emailnya.
"Regarding your concern, please be informed that Age of Empires : World Domination is currently supported for Android OS and iOS only. However, the support for WindowsPhone/WindowsOS is being considered. Regarding this matter, we are not able to send notifications individually. Once we have additional OS supported, it will be announced in the SNS site/ Web site etc. Your understanding is appreciated."
Dari isi pernyataan diatas, Klab sebagai developer game tersebut mengatakan bahwa untuk Platform Windows Phone masih akan dipertimbangkan untuk merilisnya pada platform Windows Phone, meskipun dalam pernyataan diatas tidak bisa dikatakan 100% akan dirilis.
Sampai hal itu terjadi, mungkin kalian masih mencoba sequel dari game 'Age of Empire' lain yang sudah muncul lebih dahulu yakni Age of Empire : Castle of Siege.
Source Windows Central