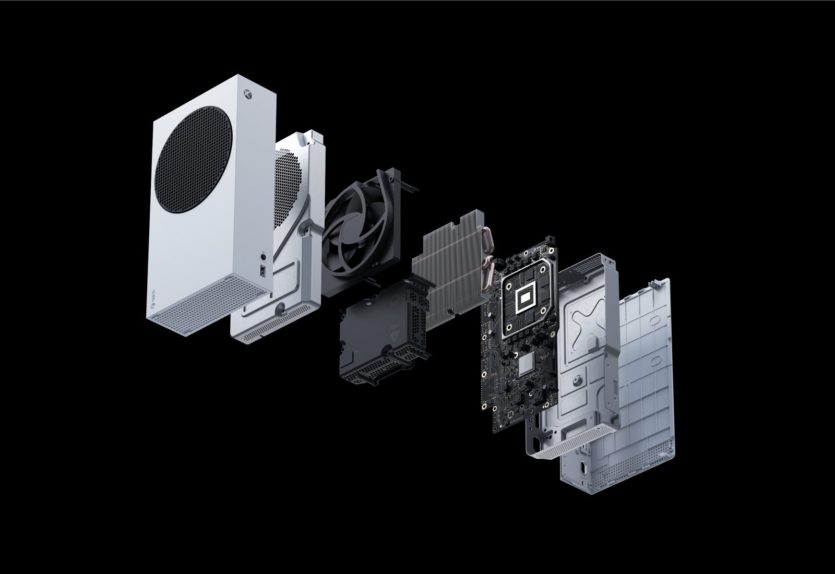 Selain menawarkan sebuah konsol powerfull bernama Xbox Series X, Microsoft membuat lagi versi lebih kecilnya yang disebut dengan Xbox Series S, secara spesifikasi bisa dibilang keduanya hampir mirip, namun memang ada beberapa yang dibatasi termasuk kekuatan GPU dan resolusi yang dikurangi.
Baca Juga : Inilah Spesifikasi Xbox Series X Yang Akhirnya Terungkap
Dan bagi yang penasaran, berikut adalah spesifikasi dari Xbox Series S.
Dimessions
275mm (10.8in) tall and 151mm (5.95in) in depth and width
Processor
8x Cores @ 3.6GHz (3.4 GHz w/ SMT) Custom Zen 2 CPU
Graphics
4 TFLOPS (teraflops), 20 CUs (compute units) @ 1.565 GHz Custom RDNA 2 GPU
System on a Chip (SoC)
Custom 7nm Enhanced SoC
RAM
10GB GDDR6 RAM
8GB @ 224GB/s
2GB @ 56GB/s
Performance Target
1440p @ 60 FPS (up to 120 FPS)
Storage
512GB PCIe Gen 4 NVME SSD
2.4GB/sec uncompressed
4.8GB/sec compressed
Expandable Storage
1TB Expansion Card
Disc Drive
No (Digital Only)
Display Out
HDMI 2.1
Networking
Ethernet
Wireless
Ray Tracing
Yes
Audio
Audio out only, through HDMI port
Backward Compatibility
Most Xbox One, Xbox 360, and original Xbox.
Xbox One accessories are backward compatible.
Dari gambar yang ditunjukan diatas, bisa dilihat ukuran dari konsol ini lebih mungil dan minimalis juga, namun tentu performa yang ditawarkannya masih terbilang oke dan mantap.
Lalu berapakah harga monster kecil ini? berdasarkan halaman resminya, perangkat Xbox Series X yang pre-ordernya akan dimulai pada 22 September mendatang memiliki harga sekitar $299 atau sekitar Rp4.4 Juta dan akan dijual di Microsoft Store.
Nah bagaimana menurutmu mengenai monster kecil ini? silahkan berikan pendapat dan opinimu dikolom komentar dibawah.
Via : Pureinfotech, Xbox