Sudah bukan rahasia umum lagi bahwa banyak pengguna Windows 10 berbondong bondong beralih dan mencoba Windows 11, bahkan tidak peduli bahwa OS ini masih berstatus preview atau masih Beta, selain itu cukup banyak juga yang bertanya kenapa ada masalah ini dan itu dan lainnya yang terjadi pada OS tersebut.
Nah untuk kamu nih yang memang baru saja melakukan update ke Windows 11 Insider Preview Build 22000.100, kamu wajib tahu nih bahwa meski sudah mendapatkan update, masih ada sejumlah masalah yang akan kamu temukan di OS ini, termasuk diantaranya adalah Known issues berikut.
Masalah di Start Menu
Yang pertama, masalah yang memang sudah cukup sering saya rasakan sendiri adalah ketika mengetikkan sesuatu di Search bar di Start menu, tidak ada teks apapun yang tampil meski kamu mengetikkan apapun disana.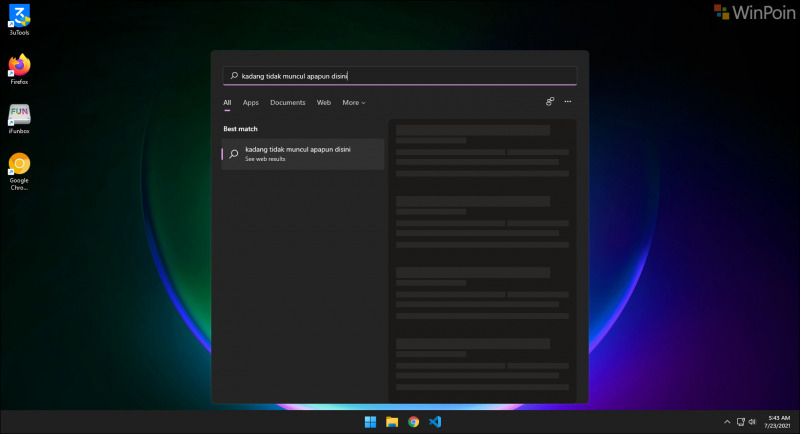 Yang kedua dari masalah di Start menu adalah kadang Windows terminal dan System menghilang dari daftar menu di klik kanan Start Menu.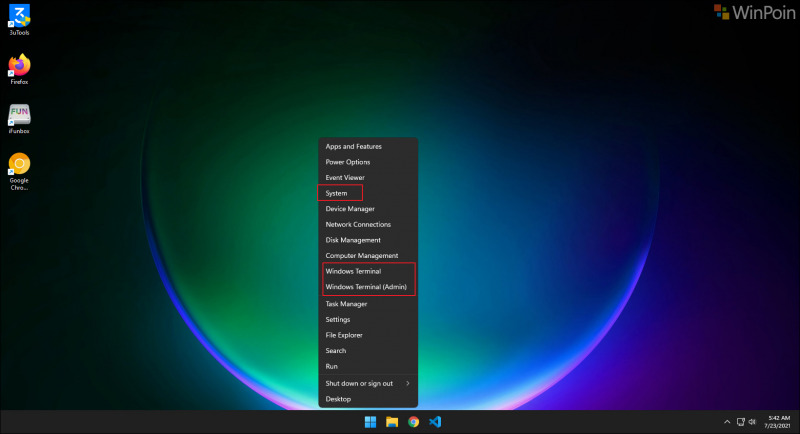 Selain itu, ketika start menu di klik, kadang masih ada glitch yang menurut saya memang tidak mengganggu, namun jika terlalu sering rasanya agak sedikit aneh saja melihatnya.
Masalah di Taskbar
Ketika kamu mengganti input methods, kadang taskbar menampilkan sejumlah flickering yang tentunya mengganggu sebagian pengguna.
Masalah di Windows Security
Nah untuk kamu yang juga mengandalkan Windows Security, kamu wajib tahu bahwa terkadang, "Automatic sample submission" suka tiba tiba turn off sendiri setelah perangkat di Restart.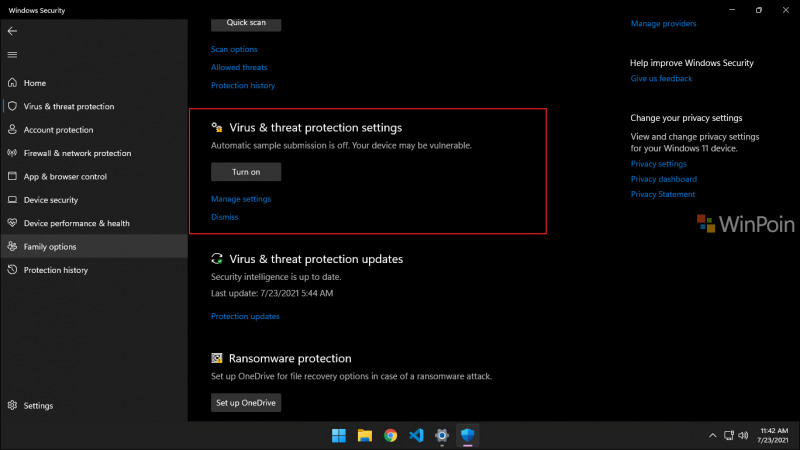 Selain itu, berdasarkan laporan dari beberapa pengguna, sejumlah perangkat dengan dukungan Windows Hello pun mengalami masalah "Something went wrong" ketika mencoba melakukan sign in setelah melakukan upgrade.
Masalah di File Explorer
Dalam beberapa kasus, Context Menu kadang tidak ter-render secara sempurna, dan terpotong seperti pada gambar berikut.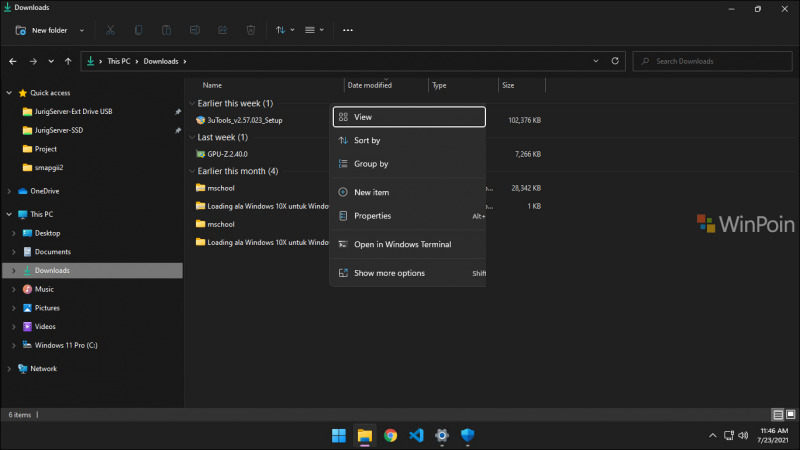 Selain itu, salah satu yang paling merepotkan pada masalah lain yang juga sempat dan terkadang saya alami di Windows 11 adalah, ketika klik pada icon shortcut tertentu di Desktop, yang terklik dan terbuka justru bukanlah aplikasi yang saya pilih.
Nah selain beberapa bug yang juga sempat saya rasakan diatas, beberapa diantaranya memang sudah Microsoft akui dan telah dimasukkan pada Known Issues Windows 11 Build 22000.100, dan jika kamu penasaran apa saja daftar known issues tersebut, berikut WinPoin cantumkan pada daftar dibawah.
[REMINDER] When upgrading to Windows 11 from Windows 10 or when installing an update to Windows 11, some features may be deprecated or removed. See details here.
Start:

In some cases, you might be unable to enter text when using Search from Start or the Taskbar. If you experience the issue, press WIN + R on the keyboard to launch the Run dialog box, then close it.
System and Windows Terminal is missing when right-clicking on the Start button (WIN + X).

Taskbar:

The Taskbar will sometimes flicker when switching input methods.

Settings:

When launching the Settings app, a brief green flash may appear.
When using Quick Settings to modify Accessibility settings, the settings UI may not save the selected state.
Settings will crash when clicking "Facial recognition (Windows Hello)" under Sign-in Settings if Windows Hello is already set up.

File Explorer:

Explorer.exe crashes in a loop for Insiders using the Turkish display language when battery charge is at 100%.
The context menu sometimes doesn't render completely and ends up truncated.
Clicking a desktop icon or context menu entry may result in the wrong item being selected.

Search:

After clicking the Search icon on the Taskbar, the Search panel may not open. If this occurs, restart the "Windows Explorer" process, and open the search panel again.
When you hover your mouse over the Search icon on the Taskbar, recent searches may not be displayed. To work around the issue, restart your PC.
Search panel might appear as black and not display any content below the search box.

Widgets:

Widgets board may appear empty. To work around the issue, you can sign out and then sign back in again.
Launching links from the widgets board may not invoke apps to the foreground.
Widgets may be displayed in the wrong size on external monitors. If you encounter this, you can launch the widgets via touch or WIN + W shortcut on your actual PC display first and then launch on your secondary monitors.

Store:

We are working to improve search relevance in the Store including resolving an issue where in some cases the ordering of search results is inaccurate.
The install button might not be functional yet in some limited scenarios.
Rating and reviews are not available for some apps.

Windows Security

"Automatic sample submission" is unexpectedly turned off when you restart your PC.
Windows Hello (Face) may show an error saying "Something went wrong" when attempting to sign in after upgrading. To work around this, sign in with your password or PIN and:

Open Device Manager.
Uninstall "Windows Hello Face Software Device" under "Biometric devices".

Localization

There is an issue where some Insiders may be some missing translations from their user experience for a small subset of languages running the latest Insider Preview builds. To confirm if you have been impacted, please visit this Answers forum post and follow the steps for remediation.
Wah wah, banyak bukan? dari masalah yang disebutkan diatas, apakah ada masalah yang juga kamu rasakan? komen dibawah guys.
Via : Microsoft