Seperti biasa, setiap minggu Microsoft akan memberikan update pada Edge Chromium Dev Channel mereka, dan hari ini pada update 87.0.658.0, ada sebuah fitur menarik yang patut dicoba.
Salah satu fitur baru yang diumumkan adalah Selective Text Translations, dan jika kamu ingat pada awal bulan september lalu, fitur awalnya pertama kali hadir di Google Chrome Canary, dan karena Edge kini bagian dari Chromium Project Development, maka tentu fitur tersebut hadir juga di browser milik Microsoft ini.
Terkait dengan Selective Text Translations ini, jika kamu sudah menggunakan Edge Chromium 87.0.658.0 atau yang lebih baru, kamu kini dapat melihat opsi "Translate selections to Indonesian/English dan bahasa lainnya" pada context menu ketika kamu sudah menghighlight textpada dihalaman web yang kamu buka.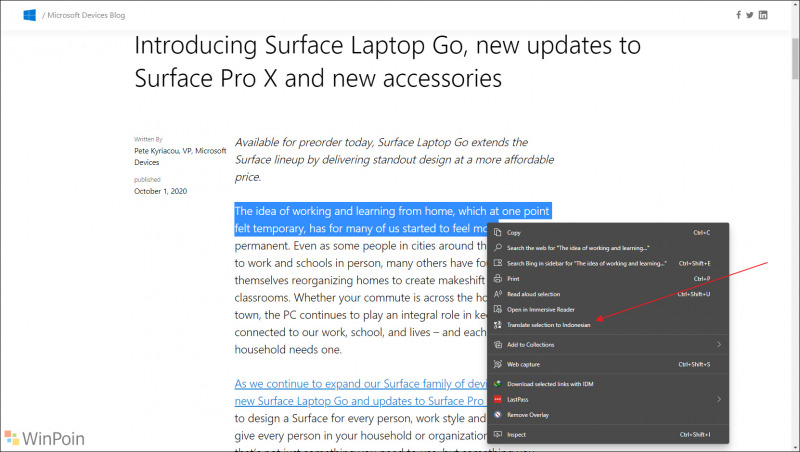 Fitur ini tentu cukup bermanfaat terutama jika pada halaman yang sama ada dua atau lebih bahasa berbeda, jadi kita bisa secara terpisah melakukan translate pada bahasa tertentu.
Salah satu fitur baru lainnya ada kemampuan untuk tidak pernah menerjemahkan situs tertentu, dan beberapa management policy yang juga telah ditambahkan dan juga telah dihapus, jika kamu penasaran, berikut adalah changelog lengkap dari Edge Dev 87.0.658.0.
Fitur Yang Ditambahkan: 
Added the ability to translate selected text on a page. 
Added the ability to never translate a particular site. 
Added a management policy to Configure Speech Recognition.  Note that updates to documentation and administrative templates are still needed. 
Obsoleted the management policy to Enable Deprecated Web Platform Features. 
Peningkatan Reliability dan Perubahan Behavior: 
Fixed an issue where opening Edge sometimes causes the device to bluescreen. 
Fixed an issue where opening the Downloads management page sometimes crashes the browser. 
Fixed a crash when opening a website installed as an app. 
Fixed a crash when Password Monitor shows an alert. 
Fixed an issue where using certain accessibility features like Narrator sometimes causes tabs to crash on certain versions of Windows 10. 
Fixed an issue where dragging items into a Collection sometimes crashes the Collections pane. 
Fixed an issue where Edge sometimes opens many command prompt windows with ERROR: file_io_win.cc(180). 
Temporarily disabled the cards that appear when hovering the mouse over tabs. 
Fixed an issue where there is sometimes blank space between tabs or between the new tab button and the last tab. 
Fixed an issue where Read Aloud sometimes doesn't start reading from the current location in PDFs. 
Fixed an issue where the profile image on the Taskbar shortcut doesn't match the image in the browser. 
Fixed an issue where searching on the History management page sometimes doesn't work. 
Fixed an issue where using Guided Switch opens an additional new tab. 
Fixed an issue where Guided Switch sometimes is triggered for popup windows. 
Fixed an issue where text selected in PDFs sometimes doesn't unselect when it should. 
Fixed an issue where keyboard shortcuts registered by extensions sometimes don't work. 
Layout Vertical Tab Kini Berubah!
Salah satu hal baru yang hadir di Edge Chromium Dev 87.0.658.0 adalah perubahan layout dari vertical tab termasuk pindahnya lokasi tombol switch on/off vertical tab tersebut.
Perubahan ini selaras dengan apa yang telah dirumorkan dan dikabarkan sebelumnya Bahwa Lokasi Tombol Vertical Tab di Microsoft Edge Chromium Bisa Saja Dipindah.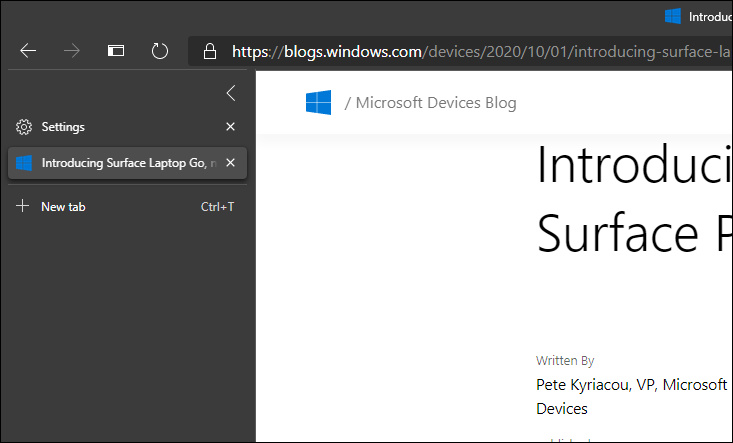 Seperti yang dapat kamu lihat pada gambar diatas, lokasi tombol kini berada sejajar dengan tombol back/next dan reload, selain itu kini layout dari vertical tab kini tidak lagi memotong toolbar seperti sebelumnya, dan sejajar memiliki layout mirip dengan collection.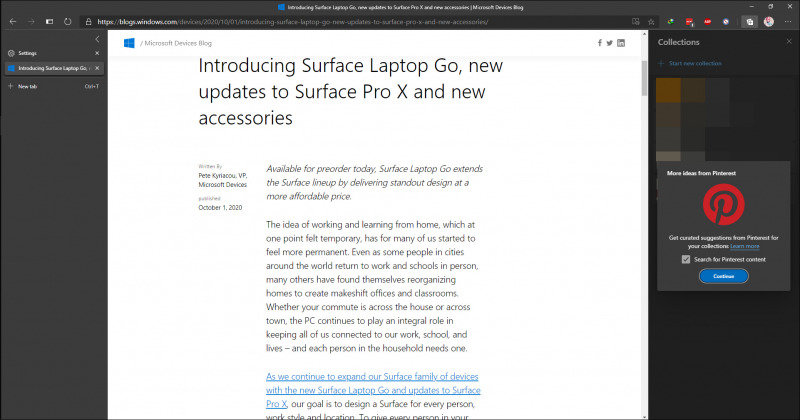 Nah bagaimana menurutmu dengan perubahan dan fitur yang hadir di Edge Dev 87.0.658.0 ini? sudahkah kamu melakukan update? komen dibawah guys.
Via : Microsoft