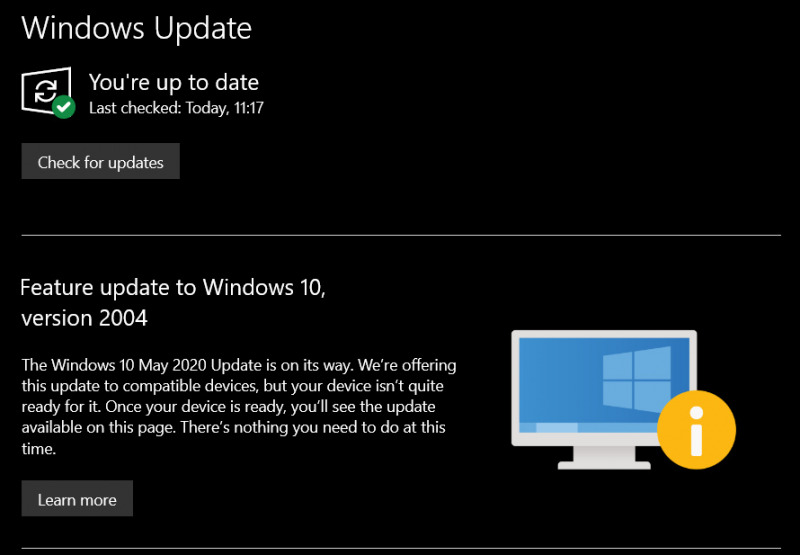 Sebuah laporan baru terkait feature update baru baru ini telah diungkap oleh Microsoft, dimana kabarnya pengguna Windows 10 (Pro dan Enterprise), dapat melakukan bypass pada feature update yang di blokir dan memaksa system untuk mendapatkan dan menginstallnya.
Berdasarkan penjelasan Microsoft dalam halaman dokumentasinya, pengguna dapat mengubah konfigurasi disable safeguards policy pada Group Policy Editor. Dimana dengan itu kamu bisa mendapatkan featured update segera langsung dari halaman windows update.
"IT admins can, if necessary, opt devices out of safeguard protections by using the disable safeguards policy. In a Mobile Device Management (MDM) tool, use the Update/DisableWUfBSafeguards CSP. In Group Policy, use the Disable safeguards for Feature Updates Group Policy. This policy is available to Windows Update for Business devices running Windows 10, version 1809 or later that have installed the October 2020 security update," Microsoft menjelaskan.
"We recommend opting out only in an IT environment and for validation purposes. You can also validate an upcoming Windows 10 feature update version without the safeguards being applied by using the Release Preview channel of the Windows Insider Program for Business."
Untuk langkah konfigurasinya sendiri cukup mudah, dan berikut adalah langkah singkatnya.
Langkah 1. Pastikan kamu menggunakan Windows 10 Pro atau Enterprises.
Langkah 2. Selanjutnya masuk ke Group Policy Editor / Edit Group Policy.
Langkah 3. Silahkan navigasi ke Configuration > Administrative Templates > Windows Components > Windows Update > Windows Update for Bussiness.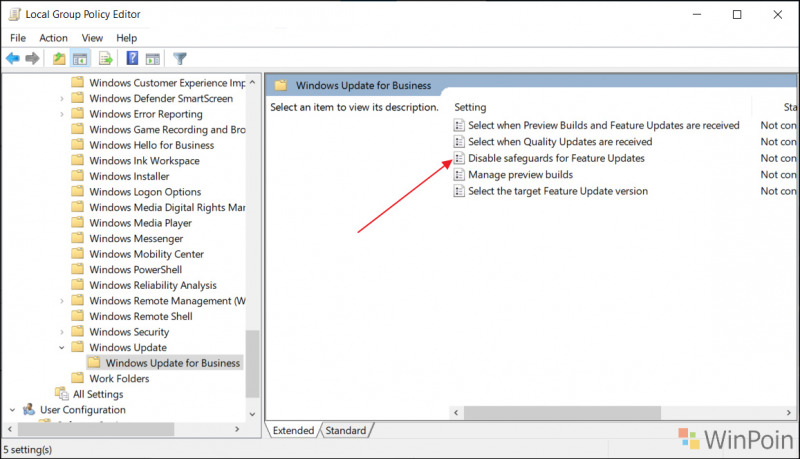 Selanjutnya klik pada Disable safeguards for Feature Updates, seperti yang saya tunjukkan pada gambar diatas.
Langkah 4. Selanjutnya silahkan kamu ubah dari Not Configured menjadi Enabled.
Klik OK dan selesai.
Dengan dilakukannya langkah tersebut, seharusnya seperti apa yang dijelaskan Microsoft, kamu akan mendapatkan feature update meski sebelumnya perangkat kamu belum mendapatkannya karena masalah update diblokir atau lainnya.
Seperti yang dikatakan Microsoft, Policy ini sudah tersedia bagi kamu pengguna Windows 10 Pro atau Enterprises yang menggunakan versi 1809 atau yang lebih baru.
Nah bagaimana menurutmu mengenai penambahan policy ini? silahkan berikan pendapat dan opinimu mengenai hal ini dikolom komentar dibawah.
Via : Microsoft