Sebelumnya dilaporkan bahwa Microsoft meluncurkan fitur Outlook Smart Tile untuk Microsoft Edge Chromium, dimana fitur ini akan menampilkan pesan / email baru dan event yang terjadi pada halaman New Tab di Microsoft Edge Chromium.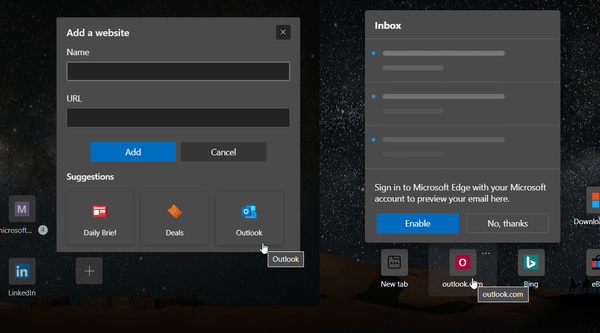 "This month, you'll start to see incoming emails directly from the new tab page of Microsoft Edge. With the new smart tile for Outlook, you can see your three most recent emails and also start a new email or meeting request in Outlook, directly from the new tab page.

To get started, open a new tab page and click the plus sign beside your current quick links. Under suggestions, click Outlook. You'll need to sign in to Microsoft Edge with the same account you use for Outlook to enable this feature, and it will help make your life easier by consolidating your workstreams."
Mengenai fitur ini, dilansir dari Techdows, kabarnya fitur akan tersedia untuk seluruh pengguna Microsoft Edge Chromium dengan versi 88 atau yang lebih baru, dan untuk mendapatkan fitur ini sendiri, kamu bisa cek pada halaman New Tab Microsoft Edge kamu, pastikan bahwa Quick Links telah kamu aktifkan, dan silahkan kamu tambahkan Outlook, tepat seperti pada gambar diatas, setelah ditambahkan harusnya kamu akan menemukan tampilan seperti pada gambar berikut.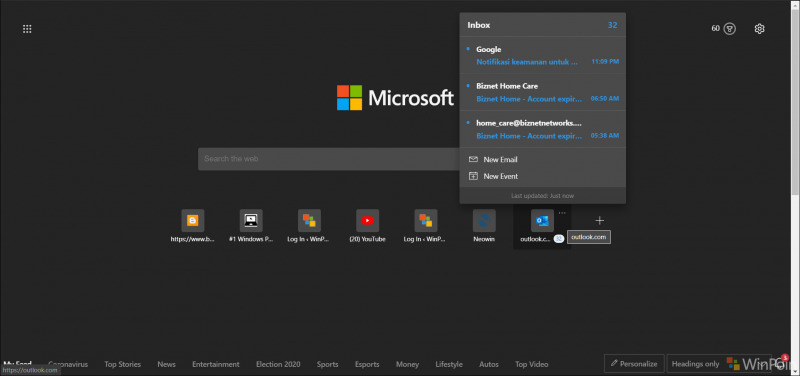 Nah fitur yang menarik bukan? silahkan kamu coba guys dan silahkan berikan pendapatmu mengenai fitur ini dikolom komentar dibawah.