Minggu ini, ada build baru untuk para pengguna Windows Insider Dev Channel, dimana build yang dihadirkan adalah Build 25236 yang cukup menarik nih untuk kita bahas, karena ada satu buah peningkatan menarik pada search shortcut di Taskbar Windows 11.
"To improve the value of Search shortcuts and reduce friction in the broader Windows Search experience, we are trying out different ways to provide tips on how to use Windows Search via the taskbar. Only some English-speaking Windows Insiders in the U.S. will see this. If you do, be sure to give us feedback on what you think in Feedback Hub." Tulis Microsoft.
Nah perubahan tersebut adalah kini ada peningkatan pada pengalaman Windows Search, dimana Microsoft akan memberikan sejumlah opsi berbeda mengenai bagaimana cara Windows Search di Taskbar bekerja.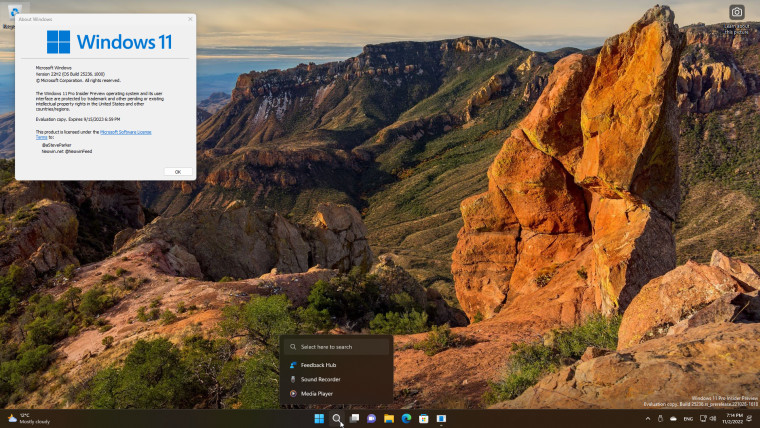 Seperti pada gambar diatas, search nantinya bisa menampilkan sejumlah opsi yang dapat pengguna pilih. Tetapi, sayangnya fitur ini masih sangat terbatas utnuk pengguna Windows Insider di US saja.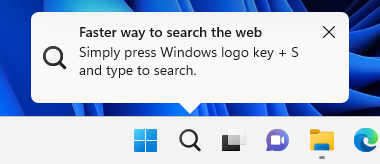 Lalu selain itu apakah ada hal lain?, tentu saja ada dong, dimana dalam build ini, ada sejumlah perbaikan dan peningkatan yang dihadirkan, dimana perbaikan paling menonjol adalah perikan file explorer yang tiba tiba muncul di Taskbar ketika hidden icon flyout pengguna buka.
Masalah tersebut tentu membuat Windows 11 Insider Build 25231 kemarin tampak sedikit berantakan ketika pengguna mencoba membuka hidden flyout icon di Taskbar.
Nah selain itu, ada sejumlah perbaikan dan peningkatan lain dimana diantaranya adalah sebagai berikut:
We fixed the issue causing natural voices such as Guy or Jenny to not speak in Narrator.
Fixed an issue where if you opened the hidden icons flyout, it caused a File Explorer entry for it to appear in the taskbar.
Fixed an issue that was causing the taskbar previews to freeze or show as blank and not open when using Windows key + (#) key commands to try and switch between windows.
The show hidden icons flyout in the system tray should now responsively resize with changes again to prevent empty spaces and columns.
Fixed multiple issues related to the taskbar which were impacting explorer.exe reliability.
Fixed an issue that was causing the volume icon in the system tray to incorrectly show as muted.
Fixed a GDI handle leak related to updating the notification center icon in the taskbar, which would eventually lead to an explorer.exe crash for people who received a large number of notifications.
Narrator will now announce the pinned and unpinned status of apps in the taskbar.
Fixed an issue which was making File Explorer crash when closing tabs for some people.
Made another fix for an issue which could cause errant divider lines in File Explorer's navigation pane.
Made a change to hide the battery graph on the Power & Battery page if a UPS is connected, as the capacity information it displayed in that case wasn't correct.
If you don't have a kiosk set up, we've now updated the text on Accounts > Other Users > Kiosk to make it clearer you need to do that, so it doesn't appear to be a dead end.
Fixed an issue where if you went into the properties for an audio device, this could make it unexpectedly show in the output devices list on System > Sound although it was actually an input device.
In the accessibility settings for color filters, the inverted option should work correctly again now and not just set your PC to grayscale colors.
Fixed an issue causing some Insiders to see a bugcheck with error SYSTEM_THREAD_EXCEPTION_NOT_HANDLED in recent builds.
Nah untuk kamu para pengguna Windows Insider Dev Channel, kamu bisa langsung saja memperbarui Windows 11 kamu melalui halaman Settings > Windows Update > Check for updates > kemudian download Windows 11 Insider Preview Build 25236.
Via : Microsoft