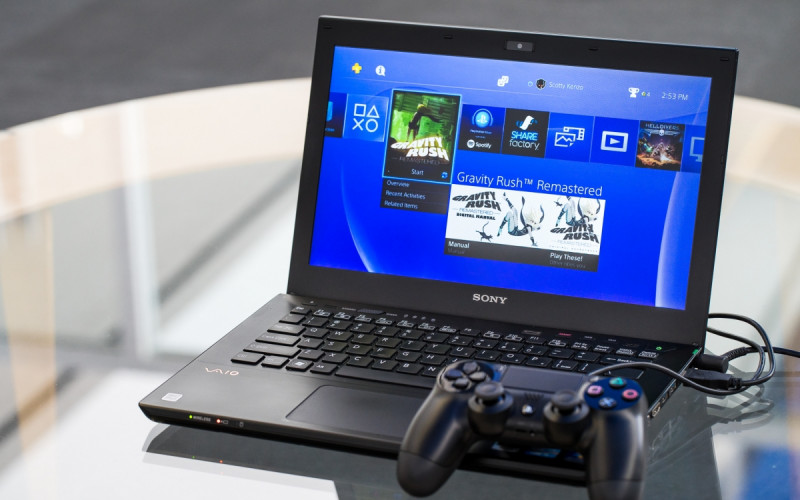 Kamu pengguna konsol game buatan Sony yakni PlayStation 4 (PS4)? Jika iya, ada kabar bagus untuk kamu semua. Sony sudah merilis layanan PlayStation Now untuk Windows PC mulai kemarin!
Layanan PlayStation Now akan membuat kamu bisa memainkan beberapa game PS4 melalui Windows PC, dan berikut ini adalah daftar game PS4 yang bisa kamu mainkan di Windows PC milikmu melalui layanan PlayStation Now:
Killzone Shadow Fall
God of War 3 Remastered
Saints Row IV: Re-Elected
WWE 2K16
Tropico 5
Ultra Street Fighter IV
F1 2015
Darksiders II Deathinitive Edition
Evolve
MX vs ATV Supercross Encore
Resogun
Helldivers
Broken Age
Dead Nation: Apocalypse Edition
Grim Fandango Remastered
Akiba's Beat
Castlestorm Definitive Edition
Exist Archive: The Other Side of the Sky
Nidhogg
Super Mega Baseball
Tidak hanya PS4, beberapa game yang pernah sukses di PS3 pun ikut dibawa oleh Sony untuk meramaikan layanan PlayStation Now, berikut adalah daftarnya:
Red Dead Redemption
Mortal Kombat
WWE 2K15
Injustice: Gods Among Us
The Last of Us
Tekken Tag Tournament 2
Mafia II
NBA 2K14
Sid Meier's Civilization Revolution
Sonic Generations
Star Wars: The Force Unleashed
Batman Arkham Origins
Saint's Row IV
BEYOND: Two Souls
Saint's Row 2
Star Wars: The Force Unleashed II
LEGO Batman 2: DC Super Heroes
Red Dead Redemption: Undead Nightmare
God of War III
Sonic Adventure 2
Nah, itulah daftar beberapa game PlayStation yang bisa kamu mainkan via Windows PC. Tentunya, Sony masih akan terus menambahkan daftar game terbaru mereka di layanan PalyStation Now. Agar kamu dapat menikmati layanan PlayStation Now via Windows PC dengan lebih mantap, maka kamu memerlukan beberapa hal dan berikut adalah daftarnya:
Perlu kamu tahu, PlayStation Now merupakan layanan berbayar dari Sony untuk kamu pengguna PlayStation, layanan ini merupakan layanan streaming game yang memerlukan koneksi internet yang cepat dan stabil serta biaya bulanan untuk berlangganan. Jika kamu ingin menikmati layanan ini setiap bulan, maka kamu perlu merogoh kocek sekitar Rp130 ribu/bulan atau kamu juga bisa membeli layanan ini selama setahun penuh dengan harga sekitar Rp1,3 jutaan.
Kalau kamu tertarik dengan layanan PlayStation Now, kamu bisa mengunjungi halaman berikut ini.
via PlayStation