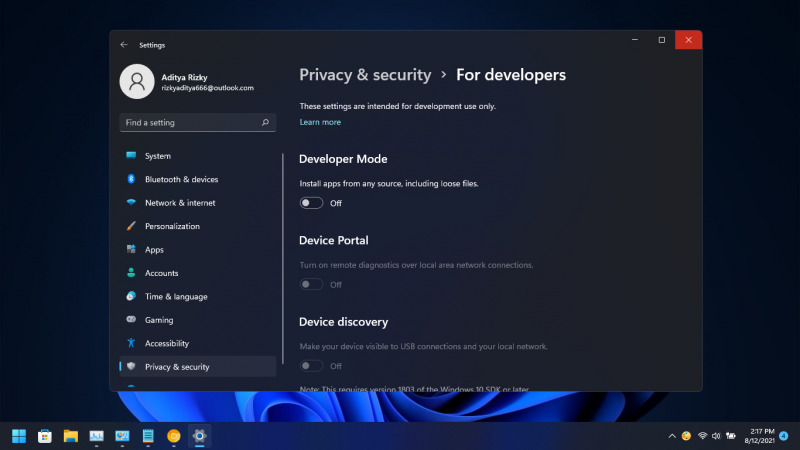 Jika kamu menggunakan Windows 11 untuk melakukan kegiatan mengembangkan aplikasi menggunakan Visual Studio, maka ada baiknya kamu mengaktifkan fitur Developer mode.
Ketika fitur Developer mode aktif, maka pengguna bisa melakukan sideloading dan debugging aplikasi. Termasuk konfigurasi SSH pada firewall yang memungkinkan installasi aplikasi dilakukan secara remote.
Baca juga tutorial Windows 11 lainnya:
Mengaktifkan Developer Mode di Windows 11
Buka Settings.
Klik opsi Privacy & security.
Pada panel kanan, klik opsi For developers.
Klik (On) pada opsi Developer Mode.
Ketika muncul konfirmasi, klik Yes.
Cara alternatif lain juga bisa kamu lakukan melalui Group Policy Editor.
Buka Group Policy Editor.
Navigasi ke Computer Configuration\Administrative Templates\Windows Components\App Package Deployment
Pada panel kanan, klik 2x pada opsi Allow development of Windows Store apps and installing them from an integrated development environment (IDE).
Klik opsi Enabled. Jika sudah klik OK untuk menyimpan pengaturan.
Untuk mengembalikan pengaturan seperti semula, kamu bisa melalui langkah-langkah diatas dan mengubahnya menjadi Off atau Disabled (cara ke-2).
Jadi mengaktifkan fitur Developer mode perlu dilakukan jika kamu ingin mencoba aplikasi yang kamu kembangkan. Sebaliknya, jika kamu hanya menggunakan Windows 11 untuk kebutuhan biasa seperti browsing, Microsoft Office, atau gaming, maka kamu tidak perlu menggunakan Developer mode.